RIM is short for records information management.  Basically is what RIM handles, is the management of all of your business documents from beginning to end.  The whole life cycle of your paperwork is what RIM looks out for.  This is a way to make sure that your records are being handled properly.  It doesn't matter if your documents are stored online, stored on your desktop, if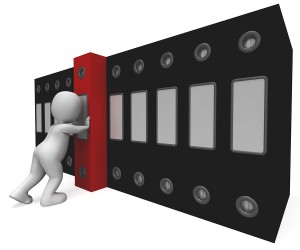 they are emails, or any other document that would have secure information.  RIM makes sure that your records are kept safe from the second it becomes a record, all the way until it is destroyed.  This ensures your safety and makes sure that you don't have to worry about any of your important information leaking out.
Not only does RIM look out for you just by keeping an eye on your records, but it is also used to make sure that you are following all rules and regulations that are required for your business in order to protect you from any fines or legal issues.  RIM doesn't just keep an eye on your records, but it can really help your business run much smoother.  When you store everything on your computer using a records information management system you are allowing your documents to be more easily accessed by you and your employees.  This is huge considering how much time it could save your office everyday.
If you have important documents that you need to keep tabs on, I would highly recommend using a RIM system for your office!