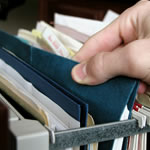 Important information is stored in many forms in many places at a business. It is in the minds of every employee, in business documents, and on work computers. There are official company records in a storage room and also the secondary documents that fill desks. It is critical to set proper document management protocols to follow, and this will help keep information safe and secure.
Official company records are usually well maintained by the accounting department, who usually have a solid document management program in place. But who maintains all of the company's informal records that reside in employee desks? In most cases the answer is no one.
Document Management Prevents Employees From Taking Intelligence With Them
When an employee leaves a company they take along all their knowledge. While there is no way to collect everything in their heads it is desirable to harness all the information they maintain in their personal document archive. However, this is rarely done in most offices.
When an employee leaves by choice or as the result of layoffs they leave behind all the documents they used on a daily basis. They are generally left in a desk until the position is filled by someone else. It might also be the office space that is re-used by another employee. The new occupant may save the documents for some period of time but they are more likely to just shred them.
Personal archives my not have value to the new desk owner but these documents may still have tremendous value to the company. They may be required to be retained for legal compliance. The problem with paper records is that they are hard to search. It is a manual process and you need to first understand the system that was used to file them. It may take hours and hours to find the document needed if a no system was used at all.
How Can Document Management Help?
The solution to prevent some of the brain drain that comes with employee turnover is to create a document management system that includes scanning all of your business documents to electronic records. When an employee leaves their documents remain on the company servers and can be locked down to the appropriate people.
Electronic records are not only easier to find when you someone leaves they are easier to find from the minute they are converted. You can use software to search entire libraries in minutes with keywords or by type. All documents that relate to a topic or date range are produced and then a person can find the exact information required.
Get Free, No-Hassle Quotes Today!
From Document Scanning to Records Storage, our experts will help you select a customized Document Management Solution that fits exactly what you're looking to do for your company.
We have locations all across the United States to serve your needs. Fill out the form to the right, or give us a call at (866) 385-3706.  Within minutes of receiving your request, you will have free quotes from experts in your area that can help you.