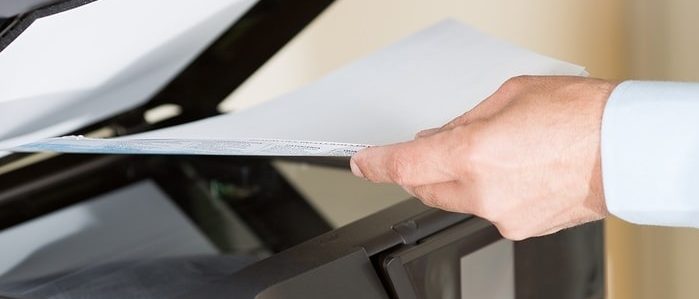 Because of the coronavirus, more than half the United States' work force is working from home. It's imperative companies continue to focus on good communication and productivity tools. Additionally, this will help set companies to thrive in the long run. Now is the perfect time to go digital and set your company up for success.
Video conferencing technologies, like Zoom Meeting and Google Hangout, help unify the workforce. However, there is nothing more important than giving workers easy access to essential documents they need. One way to accomplish this is to digitize your company's paper documents.
Document scanning has been instrumental to businesses for year. Now more than ever, companies need to continue to provide easy access to documents but in a safe was as well. Document scanning is a secure way to offer instantaneous access to company documents from any location. In addition, there are more benefits than just ease of accessibility.
What Are the Benefits to Digital Documents
Converting paper documents to electronic format has many benefits, including:
Immediate retrieval
Better data security
Improves staff collaboration
Maintains audit compliance
Improved organization
Reduces costs
Environmentally friendly
Saves space
Additionally, scanning your documents may have been a project you have been putting off. However, these extraordinary times may provide the motivation and incentives give to start the process.
How is the Medical Industry Leading the Way
One industry which has been greatly impacted is the health industry. In 2009, as part of the Health Information Technology for Economic and Clinical Health Act, the US government required all medical practices to convert their paper documents to electronic format. Additionally, they put aside $27 billion as an incentive program to encourage hospitals and independent medical practices to adopt electronic health record systems.
Today, the electronic conversion of these records is paying big dividends. Since the Covid-19 outbreak, many hospitals and medical practices are developing ways to share electronic data with other providers The pandemic is forcing hospitals and other medical facilities to make sure their data can be shared effectively.
"We have never had an international crisis of this proportion in the lifetime of the current EHR," said Dana Bensinger MSN, RN-BC, informatics nurse specialist and client solution executive at consulting firm CTG. "Once things settle down, there will be a lot of analysis of how well our systems performed, what our areas of vulnerability are, and how we fix them for the future."
According to Healthcare IT News, EHR vendors are working overtime to improve these electronic data systems. For example, Allscripts is touting its virtual health solution to help providers identify and treat patients without requiring them to come to a physical facility. Additionally, electronic Health Records securely store the information from the visits.
Other industries will likely soon follow health industry's lead. As remote workforces grow, it's ideal to have all of the corporate documents in one place.
Do You Want to Switch to an EHR System? Get Connected Today
Record Nations partners with secure and reliable scanning providers across the nation. To get started, fill out our form on the left, give us a call at (866) 385-3706, or contact us directly through our live chat. Afterwards, you will receive a free, no-obligation quote from providers near you.