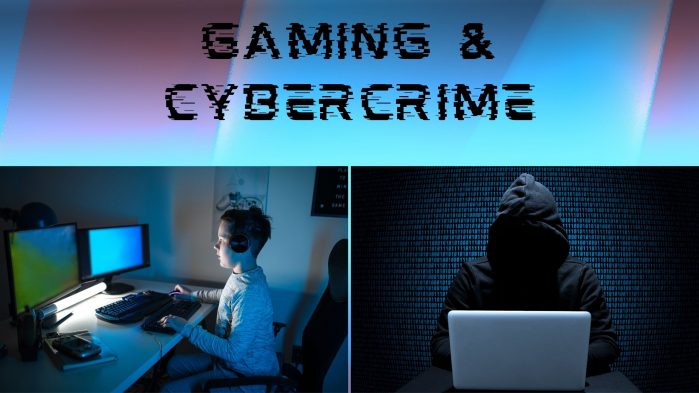 At Record Nations, we write pretty extensively on the subjects of identity theft & cybercrime. In the past we've covered everything from ransomware to social engineering attacks. After speaking with an expert recently, we were made aware of a new trend in cybercrime that you may not even be aware of. Gaming platforms as a means to commit fraud.
Cybercrime on Gaming Platforms is Widespread and Global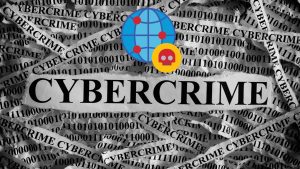 This problem is actually much more prevalent than we could've imagined. In a 2020 report by the cybersecurity company Kaspersky, they determined that as many as 1 in 10 gamers worldwide has had their identity stolen. The report states "Over a tenth of gamers (12%, or 179 million globally) have had their ID stolen –which could be worth as much as $347 billion globally."
We asked several experts for their opinions on why this type of cybercrime is becoming so common. We got several replies, as well as a number of tips on how to protect yourself.
Social Aspects & In-Game Purchasing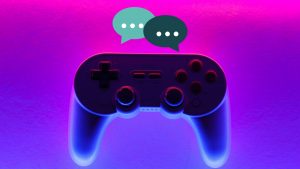 It's no secret that gaming has become a social activity. Almost every gaming system and platform has integrated some form of "chat" or messaging feature into its DNA. Not only that, almost every system or platform has a way to connect and play with other gamers from around the world. The intention was a good one, but this level of connectivity also opens you up to a variety of scams.
Carla Diaz, Co-Founder of Broadband Search writes "There has absolutely been a host of issues when it comes to identity theft in the world of gaming since the inclusion of social features. Catfishing is actually quite common, and while not all of these scams end in things like identity theft, many do end up being scammed out of their finances."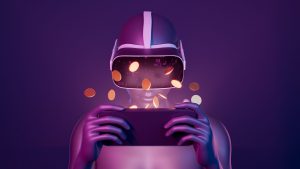 In-game purchasing also poses a number of risks. Aside from entering your personal information into the game itself, it can also lead to fraudulent "micro-transactions" between players. Carla expands on this "Some have taken advantage of this and have set up things like fake sites or links in which people, and unfortunately young children, end up entering things like credit card information. Unaware they have essentially given a stranger on the web their parent's or their own financial information hoping to score discounted in-game credits only to find out their accounts are overcharged or empty."
Children, Gaming, and Cybercrime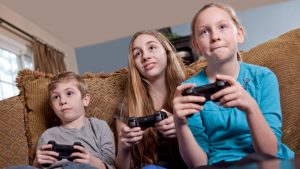 While many adults play video games, it would seem that many newer games and platforms are focused on children. This seems mostly safe, until you learn about some of the predatory practices that are all over these platforms. 
It's not that parents don't care, it's typically that they're simply uninformed or too trusting. Every parent should take notice and monitor their kid's activity anywhere online. This includes social media accounts as well as gaming profiles. 
Daniel Sathyanesan, Founder and CEO of Winden.co, a financial technology company mentions "Children, and even teens, in unsupervised chat rooms are absolutely at risk for a family identity theft. There are many scams where players pretend to be admins and try to seek personal information–such as names, birthdays, or even credit card information–in exchange for in-game rewards or information. These scammers are specifically drawn to younger players, who aren't yet able to identify scams."
A Gaming Platform is Only as Secure as Its Servers
Nearly everyone participates in online transactions these days. Everything from shopping to banking to checking your medical records. For the most part, we trust that these companies are keeping our information secure. In many cases there are severe penalties for companies that fail to do just that. 
That being said, as cybercrime prevention gets more sophisticated, so do the tactics criminals use to surpass them. It's our responsibility to do our best to make sure a company is reputable before posting any personal information. Even then, there are hackers hard at work trying to evade even the most solid privacy infrastructures.
Morshed Alam, Founder & Editor at Savvy Programmer states "Gaming platforms typically require you to enter your name, address, email address, and other personal information in order to create an account. This information is then stored on the gaming platform's servers. Where it is vulnerable to hackers who may be able to steal it."
How to Mitigate Your Risk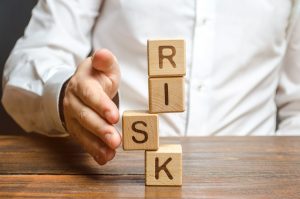 Privacyguard.com has a number of tips to help you stay safe while gaming. Tips include the basics like monitoring your kids activity online, and only buying from verified reputable sources. Additional steps like using a VPN or virtual card numbers can also be helpful.
Morshed Alam also mentions "To protect yourself from identity theft, be sure to use strong passwords and two-factor authentication whenever possible. You should also never share your personal information with anyone unless you trust them fully. And finally, be sure to monitor your credit report regularly for any signs of unauthorized activity."
Record Nations Keeps You Informed
Record Nations is always researching and speaking with industry professionals to stay on the forefront of technology. Check back often for updates, and interviews with various tech experts. Experts agree that education is the first step in preventing cybercrime. Let us help you on your quest to find the best in tech management, data management, and your storage needs. Start the process by filling out the form, using the live chat button, or giving us a call at (866) 385-3706.