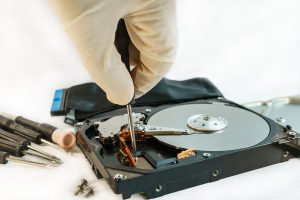 A hard drive failure can be catastrophic to your business. Hard drives contain a wealth of  information, and even the best data backup services have limits. Thankfully, a hard drive recovery service can salvage the data of a failed hard drive.
Data recovery continues to advance, and in conjunction with a cloud backup service, it's more than likely that you will be able to recover all the data on the failed hard drive.
Hard drives fail for a number of reasons, including:
Mechanical Failure
Accidental deletion or formatting
Computer Viruses
Natural disasters
Regardless of what caused it to fail, there are experts that can help determine whether your hard drive can be recovered or not. An expert will also know what recovery method will work best based on the type of failure.
How Hard Drive Recovery Works
While every case hard drive recovery case is different, they generally follow these steps.
The hard drive is plugged into another machine, where the technician runs a diagnostic check to determine what went wrong with the hard drive.
The technician determines which software or tool has the highest chance of recovery success.
The program or tool runs on the working machine, gathering all of the recoverable data on the hard drive.
The recovered data is returned to you in the manner you wish, often to your new hard drive.
Is Your Hard Drive Dead? Record Nations Can Help!
Record Nations has a network of hard drive recovery experts that use the most reliable, state-of-the-art techniques to recover your data and get your business back on it's feet as quickly as possible.
If you know you're hard drive is completely dead, take a minute to fill out the form to the right, or give us a call at (866) 385-3706.  If you're not 100% sure, the resources below can help you determine whether you are having hard drive failure or if there is another cause.