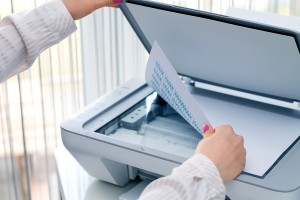 Unlock the true power of your information and put every record and valuable piece of information at your fingertips!
In the end, document scanning is all about making the information your have in your business accessible and useful.
A document scanning service will empower your employees, increase their productivity, improve your business processes, and eliminate waste.  Converting your files to a digital format will also eliminate the lost time and costs associated with locating and storing paper files.
Looking for Document Scanning for your business?
Our network of scanning service professionals have extensive experience in helping businesses of all sizes migrate to a paperless office or digital filing system.  They utilize proven methods and the latest scanning software and equipment to help create a very useful document management system for your business.
We can help you with any document scanning needs and will help you through every step of the process.  We offer a wide variety of scanning services:
Document and Record Scanning
Backfile Document Scanning
Day-Forward Scanning
Large-Format Scanning
Scanning for Electronic Document Management Systems
We offer a full-service experience to help you manage your documents.  Let a professional, secure company and staff take the hassle out of your records scanning project.
Record Nations has the manpower to quickly perform the indexing, scanning, and post production work, which includes conversion to text via optical character recognition (OCR) software.  This allows you to edit the documents, or redact private information to protect your patients or clients.
Get a Free No-Hassle Quote Today!
To get started, click the button below, fill out the form to the right, or give us a call
at (866) 385-3706. We'll get back to you as quickly as we can.
Document Scanning Services for any industry
Our expertise bridges a variety of industries, including, but not limited to:
Medical Practices – Whether you are a single practitioner or a hospital we can help. We will digitize your medical records and help you move them to electronic health records (EHR). We can even handle the data capture to make the integration seamless.
Legal Firms – It may be for an inquiry or you might just want to streamline your records storage. We can scan on site if required at the offices of your client, or opposing counsel.
Accounting Firms – Maintaining client files can become costly and is not an expense that is easily passed on. By moving records to a digital system they can be quickly found in the event of an audit.
Architecture Firms – Large format scanners can handle engineering drawings and blueprints. Now plans are available and easy to find without maintaining a hard copy library.
Government Offices – Reduce the costs of records storage and even the need to lease additional space for records that need to be stored indefinitely through scanning