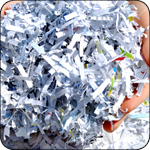 It is common business practice to record and save every traceable interaction a business makes. From receipts of payments and databases of current or prospective clients to pertinent information relating to vendors, businesses can find that these paper records start to accumulate quickly.
The amount of information going in and going out of the company can seem overwhelming, especially when the information starts to pile up in undesirable places.
It can seem confusing as to what should be kept, what should be discarded and whether it is time effective to shred the unnecessary files. Then the issue of theft and liability arises when information is not properly discarded. Therefore, it is an even better business practice to establish good record keeping processes to decide what to keep, what to purge, and when to shred the unwanted files.
The heart of the matter here is to establish a good records management program that all employees in the business understand instead of letting papers stack up. The first thing to consider is that paperwork within a company is required to be kept safe either indefinitely or for a specific amount of time by law.
Documents and Records You Should Store
Titles and Deeds, Employment/Personnel Files
Titles and deeds should be kept indefinitely or until the company does not own the assets. Warranties should also be kept, along with the relevant information that explains the promises or guarantees for the length of the warranty. Employment records and even some personnel files should be kept for the entire duration of the company. Information regarding sales and the relationships the company has with vendors should also stay on file with the business for future reference
Tax Forms, Employee Tax Records, and Employment Applications.
Even taxes and employment applications are governed by laws. These issues can be complicated and can be governed by state, not just federal laws, and should be held for a very specific amount of time. For example, some tax information should be held for a minimum of three years while other information should be held onto for a minimum of seven years; however, if a company owes taxes these time periods are subject to change.
What about files that you're not required to retain?
For all other files that are not legally required to be kept by the company, management should establish an expiration date. An example would be unsold projects, marketing related information, and correspondence. Depending on the industry, management could decide to hold onto this information for 12 months or until the end of the fiscal year before the company can purge the information.
Anything that is unnecessary, has expired, or management has decided the company no longer needs should be responsibly discarded. The consequence of not properly shredding files with personal information is the possibility of theft and fraud.
Paperwork can quickly pile up, making it easy for anyone who has access to the company's property to take the documents and the personal information reported on it. Customers, vendors, and even current employees have all been known to steal documents relating to the private inner working of the company. This information can be a huge advantage to a competitor if they were to get a hold of it.
What's My Company's Responsibility When We're Discarding or Destroying Documents?
When discarding, simply throwing the paperwork away or throwing it into the dumpster is not a safe means of disposal for the company. The term "dumpster-diving" refers to the act of people wading through dumpsters looking for papers with valuable information. Therefore, a more responsible method of safely discarding business documents is to shred them.
A responsibility of management should be to establish a time when all unwanted or unneeded documents should be shredded and properly discarded for the protection of the business. Depending on the type of work the company is responsible for performing, management may find it necessary to shred anywhere from once every few months to only once in a fiscal year.
Old tax documents or unfinished projects are not the only things that can be shredded.  You may find it beneficial to also shred anything that you don't want or need, including the large quantities of junk mail and other irrelevant marketing material.
What Records Should I Keep Long Term or Short Term?
Sometimes it is difficult to decide what to keep and what to purge. Just like cleaning a closet or an annual spring cleaning, all businesses must decide what files to keep and create a system that establishes the duration as well as a safe process for discarding all nonessential files.
Items that are typically kept for longer periods of time are things that prove ownership, titles and deeds, as well as files relating to taxes or employment which are required to be kept by federal and state laws.
Items with a shorter life span may include unsold projects. To help prevent a variety of unwanted theft of fraud, management would find it beneficial to establish a system of when to shred any unwanted documents. Shredding is a safe and responsible system of disposal.
Get Free, No-Hassle Quotes on Records Storage Today!
It is important to find a company you can trust to help you manage your important documents and records.  Fill out the form to the right, or give us a call at (866) 385-3706.  Within minutes of receiving your request, you will have free quotes from experts in your area that can help you find the right scanning and storage services.