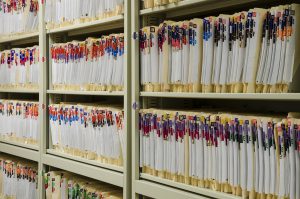 Dental records scanning is a cost-effective and simple solution for your dental records management system. Digital files and records allow for easy sharing, collaborating, increased productivity, and ultimately, better patient care.
Dental records storage service allows your office to free up space and comply with state and federal retention laws.
How Does Our Dental Record Scanning Work?
Our dental records scanning service is fast and simple:
We obtain and scan all your patient records and other files or forms you would like scanned
We convert your records into a digital format of your choosing
Each document uses proper indexing that is searchable with keywords
The entire process is secure and HIPAA compliant. Once your scanning is completed, we have options to securely dispose of the physical copies that industry-standard safe or off site facilities to store them for retrieval when you need them.
Get Free, No-Hassle Quotes on Dental Record Management Today!
Record Nations works with a network of local dental records scanning professionals who have experience working in the dental and medical industry for decades. We offer free quotes on the top scanning companies based on your location.
To get started, fill out the form or give us a call at (866) 385-3706. Within minutes of receiving your request, you will have free quotes from experts in your area that can help you find the right scanning and storage services for your practice.