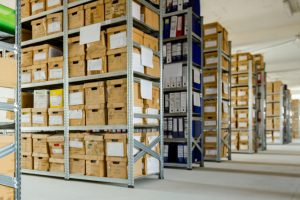 Record Nations offers secure solutions that will keep your records safe and organized. Off-site records storage protects your documents from damage, theft, and loss; while maintaining accessibility. You will be able to free up space in your office and build an efficient organization system to streamline daily workflow.
We offer physical and digital delivery services, environmental disaster protection, and advanced security to protect your documents. Your records will be safe in our off-site storage facilities. Step up your security, open up valuable space, and increase organization with document storage services.
Why Use Off-Site Storage Services?
There are many benefits to storing your records off-site. Using our facilities gives you the opportunity to increase security and improve your records management system. Whether you want to move a few filing cabinets out of the office or store your entire library off-site, we have options for you.
Convenience
Document storage services improve your records management system by offering a closed-loop document cycle/retention program solution with onsite document destruction services. When your documents reach the end of their lifecycle, we can conveniently dispose of them with secure shredding services at our storage facilities.
Access
Retrieval is easy with off-site storage services. We provide physical and digital access to stored documents as needed. We also have a web-based management system for your documents stored off-site.
Compliance
Record Nations complies with all applicable security laws at the state and federal levels. We will make sure that your company is following privacy regulations to maintain compliance and protect your sensitive information.
Organization
Moving your documents out of your workspace helps you stay organized and find your information faster. We use RFID tracking for documents to improve efficiency and save time. It is an easy way to structure your documents and enable quick retrieval when needed.
Can You Benefit from Document Storage?
Many industries can benefit from document storage services. Find your industry below to learn more about our industry-specific services and resources.
Get Free Quotes on Off-Site Records Storage Services in Your Area
Store your documents safely and access them digitally or have them delivered. Record Nations partners with hundreds of records storage service providers across North America—let us help you find the perfect solution for your document storage needs.
Are you ready to move your documents to a secured off-site facility? Look no further than Record Nations. We partner with hundreds of providers to offer the perfect storage solutions to fit your needs. Give us a call at (866) 385-3706 or fill out the form to get connected with providers near you. We will send you free, no-obligation quotes right away.