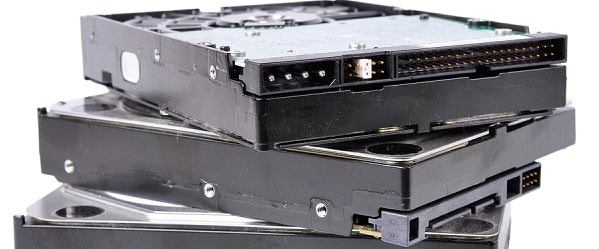 Using a computer for your business used to be a luxury—something that increased productivity but came with a significant investment. Today, you can use a computer to run a million dollar business by yourself. The company's computer hard drive holds every piece of information you need to run your company, from financials to sales leads to marketing materials and prospect lists.
With the ever-growing reliance on technology to run, promote and protect your business, it's important to recognize what might happen if you have issues with a computer or server. If your computer's hard drive crashes, it can be very costly and leave you without temporary or permanent access to these vital files that you need to operate your business.
Fixing a Failed Hard Drive
Before you try any recovery methods, determine whether your drive is actually dead. With so many components in a computer, you may be one external hard drive enclosure and a cable replacement from getting your computer back on it's feet.
There are hundreds of things you can test what exactly is malfunctioning with your hard drive. A quick way to verify whether your hard drive is failing or if it's a separate component from your computer is to remove the hard drive and test it on another computer. If it works on a different machine, it is almost assuredly a problem with a component of the original machine and not the hard drive itself.
On the other hand, you can take your hard drive to a technician and have them complete a quick diagnosis on the problem. This may not be as quick of a solution but you will get a more thorough answer.
What Can Crash My Hard Drive?
If you are sure your hard drive is dead or on the verge of dying, it's important to understand what factors into a successful recovery.
The extent of the damage on your hard drive will be the best way to gauge what options to take next and how long the process of recovery will be.
Hardware failure is the most common cause of hard drive crashes. A typical HDD has moving parts which can degrade over time with continued use, and newer models still utilize the same design. With hardware failure, loss or corruption of files can occur, making it difficult to recover the data.
Natural disasters, such as a fire or flood, can also be the culprit of hard drive failures. While these incidents are rare, physical damage is a leading cause of hardware failure. Normal to extended wear and tear will also degrade the moving parts faster as well.
My Hard Drive Failed: What to Do Next
Data recovery has really improved over the years and you can most likely recover most, if not all, of your data for the right price. There are two different ways to recover data from a hard drive:
Attempt to do it yourself with a software solution and external enclosure
Have the data recovery handled by an experienced professional
Fair Warning: If you do not have experience or expertise in performing a hard drive recovery, don't make your first attempt on one that contains any valuable data that you can't afford to lose!
How Much Does It Cost to Recover Data from a Hard Drive?
Even though different recovery specialists will certainly charge different prices, it is almost universally accepted that the final cost will correlate highly with how long the recovery process took. Much like a mechanic, you are charged hourly for the labor in addition to any parts they may have had to buy (although there usually aren't any).
How to Find a Trusted Professional
This is usually the first option people consider and when dealing with crucial data that can seriously impact your business, it makes sense to trust the professionals.
The cost to have an experienced professional handle the work can range anywhere from a couple of hundred dollars to several thousand. The deciding factor in the price largely rests upon the severity of damage to the hard drive and the time it takes to complete the recovery.
Much like a mechanic, recovery specialists will charge by the hours worked. If you have massive amounts of data but it is able to be recovered quickly, you should be charged a lot less. If your professional wants to charge by the amount of data recovered, there's a good chance they are trying to swindle as much money out of you as they can!
Find How Much Data Recovery Will Cost You in Minutes
Record Nations specializes in finding the right hard drive recovery specialists for your business. Our professionals have years of experience in data retrieval and are competing for your business, guaranteeing a great rate for you.
To get your free, no-obligation quotes in just minutes, give us a call at (866) 385-3706 or fill out the form on the right.