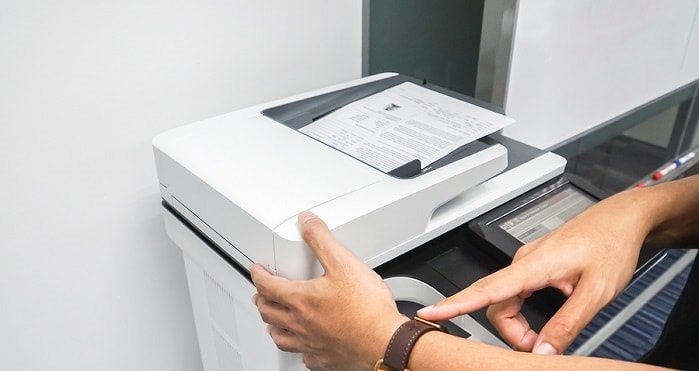 To help your company go paperless and to switch all of your files to electronic hard copies, they must be scanned. The scanning process is fairly simple and can be quickly completed by one of our experts.
We can find you a service that works for your business and our experts will help you find the solution. You can view the scanning process below.
How Do Document Scanning Services Work?
Here at Record Nations, we know that it is important to get things right the first time. Therefore, we have partnered with experts in the scanning industry to provide you with scanning that is accurate, high quality, and consistent.
Our experts can help you manage any of the following:
They remove any bindings and ensure they're ready to be scanned.
Double-Sided documents are a breeze with our process- just let them know which side goes first!
Do you want every page indexed, or just or entire document?  We'll index them however you choose to make them easier to find.
Need editable text or redaction service? We can utilize our OCR service to make sure you can change them at will.
Once the scanning project is complete, your new digital files are delivered on the media of your choice
Our Albuquerque-based scanning companies also accept custom requests- be sure to include any special requirements when you submit a FREE quote.
How Much Do Document Scanning Services Cost?
On average the price per page for scanning ranges between $0.07-0.12 cents. Although this price does depend upon other factors including the number of pages you need scanned, the services that you are requesting, and your location in Lafayette.
The estimate of your project depends upon several factors including:
What kind of scanning are you looking for (OCR, redaction, indexed, non-indexed)?
How many pages do you need to scan?
What's the time frame you're expecting to start and complete the project?
What systems do you have and do you want these documents to work with/in that system?
Along with scanning services we also offer storage services for documents that have not reached the maturity of their retention schedule as well as secure document destruction to securely purge your unwanted paper files.
Go Digital With Scanning Services Today!
To get started with your scanning project you can either fill out the form or give us a call. We will be in contact with you shortly to connect you with local providers who will offer you free service quotes.
Record Nations proudly serves these cities throughout the Lafayette area:
Abbeville | Avery Island | Baldwin | Broussard | Cade | Charenton | Church Point | Duson | Erath | Eunice | Franklin | Grand Coteau | Iota | Kaplan | Lydia | Maurice | Morse | Perry | Rayne | Scott | Youngsville