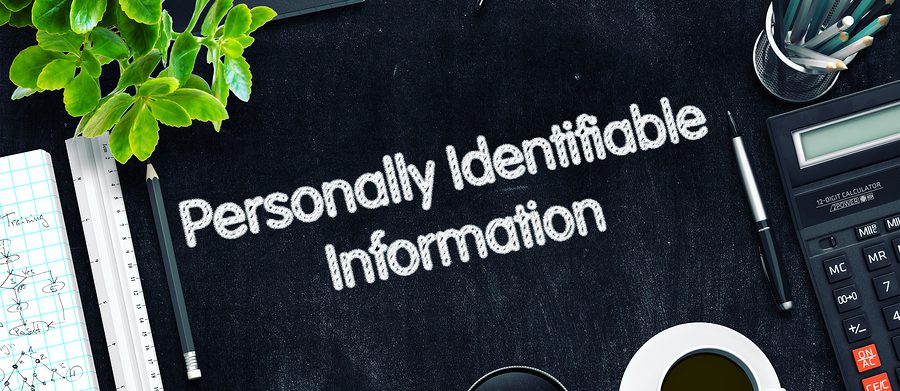 Using just a few pieces of information, hackers, cyber criminals, and identity thieves can turn the next few years of your life into a financial nightmare.
Personally Identifiable Information (PII) is defined by the Department of Labor as any piece of information that can directly or indirectly identify an individual, or a representative identification code used by institutions.
When in the wrong hands, some PII is more dangerous than others. Generally, information that is available to the public such as your name, address, license plate number, and phone number, are not considered a high-risk PII. However, if used in conjunction with one another, they can still certainly be used against you.
High-risk PII includes numbers or identifiers that you want to keep out of the public eye, including social security numbers, bank account numbers, and any healthcare information. These are the numbers you want to protect and be wary of when requested over the telephone.
Below is an informative infographic displaying the most common Personally Identifiable Information arranged by the amount of risk is involved in sharing this information.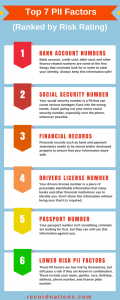 Keeping Your Personally Identifiable Information Safe at Home
In order to avoid becoming a victim of identity theft or a data breach, your PII needs to be protected.
One of the first safety measures you should take is to never give out your PII to anyone unless it is absolutely necessary. With phishing and scamming schemes on the rise, it is important that your PII is not given out over the phone unless you are sure of who you're talking to on the other end.
Another safety practice is to destroy your documents that contain PII. Bank statements, receipts, junk mail, and other papers that have your information printed on them should be shredded.
Periodically checking your accounts to make sure that they are in good order is a great way to keep on top of your finances as well as to monitor for any suspicious activity. These practices may take a little time out of your day, but pales in comparison to the toll of becoming a victim of identity theft.
Protecting Your Personally Identifiable Information at Work
Work documents can also create situations which put your PII at risk. From pay statements to tax forms, your PII is constantly used.
Most human resource departments make sure to keep your documents in secure storage. However, a locked filing cabinet can hardly be considered secure with the amount of data leaks and breaches that are present in the world today.
Secure data management systems and record storage is vital to keeping your information safe. Make sure to inquire that your work is taking the proper steps to keeping your PII safe.
Free Quotes on Secure Document Management Systems from Record Nations
A secure document management system can help to keep your Personally Identifiable Information safe from hackers and cyber criminals. Don't let your information get into the wrong hands! Call Record Nations now at (866) 385-3706 or use the form on the right to receive free, no-obligation quotes from local service providers who specialize in protecting your information securely. You free quotes are just minutes away!