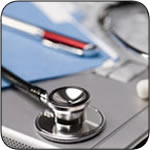 The Health Information Technology for Economic and Clinical Health Act (HITECH) was passed with the intentions of improving health care in the United States. It was passed in 2009 as part of the American Recovery and Reinvestment Act of 2009, more commonly known as the stimulus package. It authorizes the spending of $25.9 billion to further the health information technology. It also includes $36.5 billion in spending to develop a nationwide network of electronic health records (EHR).
There is a carrot and a stick approach used by the law. The carrot is in the form of grants to medical providers to convert from paper records to electronic health records. The stick is in the form or reduced payments from Medicare and Medicaid when the provider does not use electronic health records. These penalties will begin in 2015 for practices not meeting meaningful use. It starts at 1% and increases to 3% over three years.
To meet the requirements of HITECH a provider must have "Meaningful Use" of EHR. This is measured over three stages. Only two of the stages have been detailed by the Centers for Medicare and Medicaid Services (CMS). A practice must demonstrate meaningful use for a three-month reporting period in 2014 and for a full year going forward.
Stage 1
To meet the stage one requirements of meaningful use a practice must meet 15 of the core requirements and 5 of the menu items.
Stage 1 Core Requirements
Use computerized order entry for medication orders.
Implement drug-drug, drug-allergy checks.
Generate and transmit permissible prescriptions electronically.
Record demographics.
Maintain an up-to-date problem list of current and active diagnoses.
Maintain active medication list.
Maintain active medication allergy list.
Record and chart changes in vital signs.
Record smoking status for patients 13 years old or older.
Implement one clinical decision support rule.
Report ambulatory quality measures to CMS or the States.
Provide patients with an electronic copy of their health information upon request.
Provide clinical summaries to patients for each office visit.
Capability to exchange key clinical information electronically among providers and patient authorized entities.
Protect electronic health information (privacy & security)
Stage 1 Menu Requirements
Implement drug-formulary checks.
Incorporate clinical lab-test results into certified EHR as structured data.
Generate lists of patients by specific conditions to use for quality improvement, reduction of disparities, research, and outreach.
Send reminders to patients per patient preference for preventive/ follow-up care
Provide patients with timely electronic access to their health information (including lab results, problem list, medication lists, allergies)
Use certified EHR to identify patient-specific education resources and provide to patient if appropriate.
Perform medication reconciliation as relevant
Provide summary care record for transitions in care or referrals.
Capability to submit electronic data to immunization registries and actual submission.
Capability to provide electronic syndromic surveillance data to public health agencies and actual transmission.
Stage 2
To meet the stage two requirements of meaningful use a practice must meet all 17 of the core requirements and 3 of the menu items. This stage is more concerned with information exchange.
Stage 2 Core Requirements
Use computerized provider order entry (CPOE) for medication, laboratory and radiology
Generate and transmit permissible prescriptions electronically (eRx)
Record demographic information
Record and chart changes in vital signs
Record smoking status for patients 13 years old or older
Use clinical decision support to improve performance on high-priority health conditions
Provide patients the ability to view online, download and transmit their health information
Provide clinical summaries for patients for each office visit
Protect electronic health information created or maintained by the Certified EHR Technology
Incorporate clinical lab-test results into Certified EHR Technology
Generate lists of patients by specific conditions to use for quality improvement, reduction of
disparities, research, or outreach
Use clinically relevant information to identify patients who should receive reminders for preventive/follow-up care
Use certified EHR technology to identify patient-specific education resources
Perform medication reconciliation
Provide summary of care record for each transition of care or referral
Submit electronic data to immunization registries
Use secure electronic messaging to communicate with patients on relevant health information
Stage 2 Menu Requirements
Submit electronic syndromic surveillance data to public health agencies
Record electronic notes in patient records
Imaging results accessible through CEHRT
Record patient family health history
Identify and report cancer cases to a State cancer registry
Identify and report specific cases to a specialized registry (other than a cancer registry)