When businesses constantly produce important documents on a continual basis, it can be hard to distinguish which ones you should retain and which require shredding. Some files should be kept in secure storage, while others should be kept readily available. There are other documents that should be destroyed immediately.
While the retention periods and storage types of these documents can vary, they should all end up in a paper shredder at one point or another.
Documents That Require Immediate Shredding
Old pay stubs (retain your most recent copy)
Documents or files that contain clerical errors
Credit card offers
Junk mail
Bank statements (unless you need them for financial applications)
Paid financial statements
Any documents with personal identifiable information that you no longer need
With identity theft continually on the rise, causing billions of dollars in damages to businesses and individuals every year, it is important to know how long you need to keep your records and how to properly dispose of them.
Holding onto copies of these documents can cause more harm than good because they contain information that identity thieves and corporate spies are looking to get their hands on. A thorough shredding protocol can certainly eliminate these concerns and keep your information and business protected.
Records You Need To Retain
Birth certificates
Tax forms (up to 7 years)
Copies of financial or other contracts
Mortgage documents
Medical insurance forms
Vaccination records
Any records on home repairs and other guarantees of workmanship
It is important to hang on to documents such as vital records, birth records, death records, marriage, divorce and adoption records.  Investment statements including information regarding buying and selling should be kept, as should Trust documents.
Any audit or legal documents should also be held onto. For safe keeping, these documents should be kept in either a locked, safe box or a records storage facility.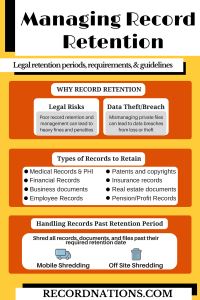 Retention Periods for Your Documents
Outside of these documents, everything else should be shredded. You should shred anything that includes your personal information, including:
names
addresses
phone numbers
bank account numbers
social security numbers
logins and passwords
expired identification documents
Many utility companies keep records of your statements online now so it is not worthwhile hanging onto gas or electric bills. If you can access any of your bills and records online easily, you can shred those documents. It may seem like an overwhelmingly large pile of documents to shred, in which case hiring a shredding service may be a good option for you.
If you would like to personally witness the shredding of your documents, on site (or mobile shredding) shredding could be a good option for you. Offsite shredding is also an option, if you require a lot of shredding or are looking for a more cost effective option. Here is a great infographic for what to keep and what to shred.
Let Our Experts Improve Your Records Storage System
Record Nations connects you with document storage and management experts to keep your information safe and protected. Our experts can help you optimize and maintain your record storage needs, regardless of format or medium, guiding you through the entire transition process to a paperless office.
To get free, no-obligation quotes in just minutes, fill out the form on the right or give us a call at (866) 385-3706.