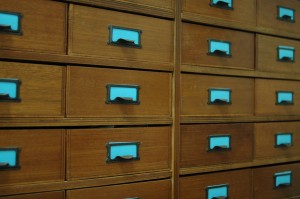 Taking care of the records in your law firm is one of the most crucial aspects of maintaining your business. Keeping track of all of your records can easily become overwhelming, especially when you have so many other duties that take priority.
Organizing and structuring your existing documents can seem like a daunting task, but records management software may be the simple solution you are looking for.
Records Management Software
Records management software allows you to create and organize all of your digital files in one user friendly system. There are a variety of programs on the market, each one providing different options and features, but the main idea is that you are creating and maintaining a virtual filing system.
There are many different layouts, features and functionalities available through different software packages, but the main goal is to choose a program with the flexibly to let you design your system as you please to increase flow and efficiency at your company.
When choosing the best software for your business there are several factors to consider:
the current size of your company
how you expect your company to grow in the future
who will need access to your records database
how complex and customizable you need your electronic filing system to be
the level of importance regarding the security/privacy of your documents
What Can This Software Do for Me?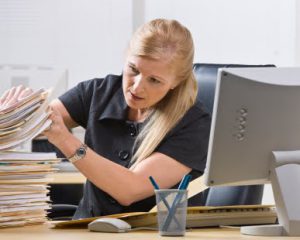 Companies that deal with legal documents can benefit tremendously by converting to a paperless system. Law firms often handle sensitive documents that require the utmost protection. You also may be working with a large volume of documents on a daily basis.
At any time, you may be collaborating with one or more people on a certain project who all need access to certain documents. All of these complications can be taken care of through the use of a records management software program.
No matter which program you choose, features you should look for that are provided in most basic software packages include:
Quick and easy access to every document right on your computer.
The ability to transfer files to another employee if necessary.
Access to a secure page so you don't have to worry about paperwork getting in the wrong hands.
Hierarchy structures and prioritization tools so you can find files quickly and efficiently.
Search tools and key word functions that allow you to quickly find the exact document you are looking for.
Cloud-based document management that give you the ability to access your documents from anywhere.
The Conversion Process
Depending on how many records you have, the conversion process from paper to digital can take hours, days or even months.
If your records are currently in paper format, the switch to a virtual system may be an enormous project in itself. Luckily, Record Nations provides legal document scanning services to help you digitize all of your important documents.
Get Free Quotes on Legal Document Management Software Today!
With all of the day-to-day complexities involved in working at a law firm, you don't need any added stresses when it comes to your paperwork. This is where Record Nations can step in to help.
At Record Nations, we have been helping law firms get their records in order for decades. To get started, fill out the form to the right, or give us a call at (866) 385-3706.  Within minutes of receiving your request, you will have free quotes from experts in your area that can help you with your legal document scanning.
If you'd like to learn more about Legal Document Management Software, check out our blog!