In the past, pa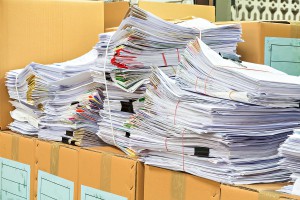 per filing systems were the only option for businesses to keep track of their important documents. Some still prefer this method because of its convenience and simplicity. However, is this still the best option?
Regardless of the type of business you are running, it is important for you to keep track of certain records. How your business goes about doing so is up to you, but there are options to make the process easier to manage so that it makes more sense for your business functions.
Because of the numerous advancements in technology throughout the years, there are now better solutions to your records maintenance needs.
So what other options have developed over the years, and which is best for your business? Here are some explanations and advantages of each to aid in your decision:
What Are My Document Management Options?
Whether you're looking for more efficiency, protection, or you simply just need to clear up some more space in your office, we can help you to find the right solution:
Each system has its own advantages, so making the decision depends on your specific business needs. No matter which option you choose, Shred Nations can get you connected with contractors in your area.
Interested in a Records Management System for Your Business? Get Your Free Quote Today!
Do you need quicker access to your confidential business information? Are you in need of a system that will protect your important data in the event of a disaster? Do you just want some more breathing room in your office? Shred Nations is here to help!

For your customized, no-obligation quote, simply fill out the form on the right or give us a call at (866) 385-3706. Our experts are prepared to answer any of your questions, and will connect you with document management companies within your area that will get the job done quickly and securely.