Every office requires some type of system for keeping track of all of the different records that must be maintained. A single individual alone has financial documents, proof of identification, educational records, medical history, and much more information that they accumulate over time.
The number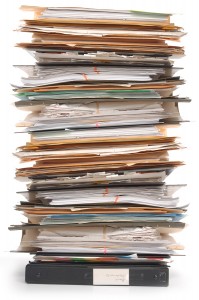 of records that every person must account for continues to grow throughout their lifetime. For families, that growing number is multiplied by the number of people within each household.
Now, consider a single company. Every business must keep records of employee files, property documents, tax information, business transactions, company policies, required certifications, pay statements, maintenance receipts—you get the picture. This number is also constantly and rapidly growing.
Whether you are just one person or the home office of a corporation with hundreds of locations, there is a method for managing those important records that will help to make your life a whole lot easier.
What are my Records Management Options?
Because there are so many different pieces of information that even one person alone needs to keep on hand, here are a number of options to help make the process less complicated:
Each of these options offers its own advantages when it comes to your document management process. No matter which option works best for you or your business, Record Nations can get you connected.
Receive a Free Quote on Document Management Services Today!
Are you interested in a records management system, or still not sure which option would make the most sense for your home or business office? Record Nations specializes in connecting those in need of professional management services with contractors that will make the process easier.
For your free, no-obligations quote on document management services in your area, just fill out the form to the right or give us a call at (866) 385-3706. Our experts are prepared to answer any of your questions and will help to find you the best contractors for your needs. Within minutes of speaking with our agent, you will receive personalized quotes for your project.