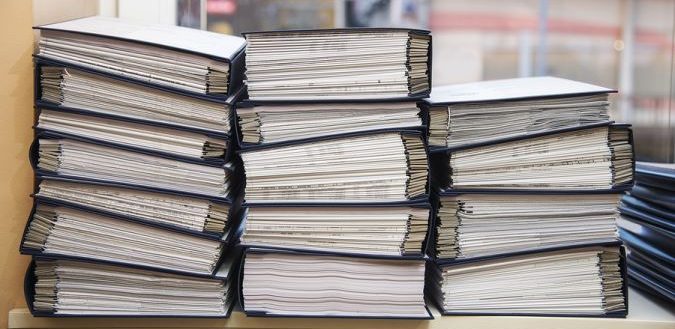 Proper records management can make a business more efficient and more secure while cutting costs. Depending on the needs of your business and whether you use digital or physical documents, solutions can vary.
Watch the video or read the transcript below to learn more about document management systems.
Video Transcript
Lay Out Your Priorities
Developing a records management system and deciding whether to go paperless or hard-copy revolves around striking a balance between cost, security, and productivity.
There isn't a single right answer for a perfect balance—instead you have to lay out your own priorities and requirements for records management in order to find the best system to suit your needs.
Top Records Management Needs to Consider
While comparing records management needs and options there are multiple cost, security, and efficiency factors to keep in mind such as:
Record accessibility

Time management

Space requirements

Natural disaster protections

Record retention periods

Supply and resource costs

Data backups
Paperless vs Offsite Cost Considerations
When it comes to cost factors some of the primary ones to keep in mind include space requirements, resource costs, and time.
When Paperless Management Is Cheapest
Accessibility
For records that are used regularly, cloud storage and DMS systems use keyword-search tools for users to easily find records. Files can also be sent and received digitally to help simplify distribution.
Save Time
Time is money, and with the one-time cost of 7-12 cents to scan records, it saves the indefinite amount of time you would be paying for employees to search for files.
Supplies Costs
Large record archives require a lot of office supplies to manage them. Rather than buying filing cabinets, paper, and other resources, a single hard drive can store thousands of digital files for far less.
When Off Site Storage Saves Money
Save Scanning Money
For records that require legal retention but are rarely used there is little ROI for making a digital copy. Instead of scanning page-by-page, off site stores by the box (which holds 2,000-2,500 sheets) for just 50-95 cents.
Save Space
Removing paper records and filing cabinets to store them from the office opens new opportunities to use the space more productively—like hiring revenue-generating employees for example.
Supplies Costs
Like paperless management, using offsite storage helps to cut back on a number of costs for everyday supplies like filing cabinets which can be especially expensive with costs ranging as high as $1,000 or more.
Paperless vs Offsite Security Factors
In terms of security considerations, some of the main ones to keep in mind include natural disasters, external data breaches, and internal theft.
How Paperless Keeps Records Secure
Access Controls
Tiered access controls can be set up in DMS and cloud storage systems, helping to prevent internal theft and limit access to sensitive information for only those who need it.
Encryption
Electronic document management systems use encryption to limit system access—helping to protect records from external theft and data breaches.
Data Backups
When devices are always connected to the system the files they contain can be regularly backed up and stored safely at an off site location—helping to limit natural disaster impact.
How Off Site Storage Benefits Security
Physical Protection
Offsite facilities are equipped with 24/7 video surveillance as well as guarded premises—helping to prevent theft at the facility.
Natural Disaster
To protect records from environmental damage, off site facilities use fire-suppressant and climate-control systems in storage areas.
Lower Theft Risk
Off site storage helps to keep sensitive information out of the office, in turn helping to keep it out of the hands of potential thieves and negligent employees.
Paperless vs. Off Site Efficiency Factors
When it comes to maximizing productivity there are several things to keep in mind like using space efficiently or the time it takes to find and refile records.
How Paperless Boosts Productivity
Keyword Search
"Less time searching, more time working." With cloud and DMS systems files can be tracked down via search, as a result removing a major time bottleneck with hard-copies.
Fast Access
One of the greatest benefits of digital records is how quickly they can be sent, received, and copied. Instead of printing a new copy to share all it takes is a right-click.
Retention Tracking
Paperless systems often can be configured to track record retention periods, helping to simplify a tedious process that carries potential legal liabilities.
How Off Site Storage Benefits Efficiency
Organized Storage
When records are stored at off site facilities an index is maintained to organize and track record locations—helping to both speed up access and simplify retention tracking.
Facility Shredding
Besides storage, most off site storage facilities are able to handle shredding once records reach the end of their life-cycle, effectively removing a step from the records management process.
Clear Office Clutter
Storing rarely-used records off site and out of the office opens up extra space that can be used for more productive purposes like additional room to work or the opportunity to hire new employees.
Need a New Record Management System?
Record Nations partners with document professionals across North America so you can find a solution to meet your needs.
Call us today at (866) 385-3706 or fill out our form to be connected to service providers in your area who can help you with your offsite storage or digital document management needs.