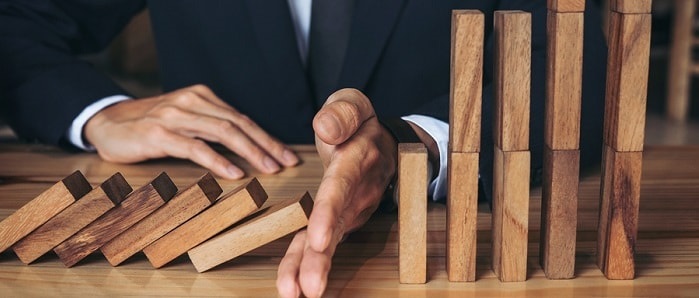 Security is just one step in your records management plan, but it might be one of the most important. Implementing the proper security measures to make sure that your critical records are not vulnerable to a breach should be one of the top priorities of any employee in charge of your secure records management plan.
If just one aspect of your security measures breaks down, you're exposing your company to the risk of a data breach. In turn, this could result in large fines, a damaged reputation, and cause your business to go under.

Weighing the Risks and Best Approach for Each Type of Record
When you have thousands of records, files, and documents in one place, implementing security measures might become a nightmare. To help separate and classify the different record types, one strategy is to evaluate their levels of risk.
Operational risk: If these records are compromised, will your company be unable to meet operational goals and objectives?
Financial risk: Does the loss or theft of these records affect the ability to protect and document financial decisions or expenditures?
Reputational or image risk: If these records were released to the public, would it cause the company to lose its status as a reliable, effective, and accountable company?
Physical or security risk: Do these records contain sensitive information that if in the wrong hands, could cause loss or damage to employees, the company, or any physical building or office?
By assigning different levels of security, you will be able to quickly figure out how to classify each record to determine if it needs to be stored on-site, archived off-site, or securely destroyed. Then, you can take different steps to secure the records you choose to store on-site.
Steps Your Company Can Take For A Secure Records Management Plan
Lock Everything Down
If you need to ensure that some records remain secure, you should lock the drawers, the cabinet, and the room. Not only are they a deterrent for an employee with prying eyes, but they can also extend the time it might take to break into the cabinet to take or copy files.
The more hassle you put in front of a potential thief, the more likely they are to move on to an easier-to-obtain target. But, remember that anyone who might want to obtain those records probably can. That's why you should take additional measures to ensure that your files are secure.
Install Fire and Security Alarms
Fire and security alarms are vital to ensure that you can minimize the risk of a fire consuming all your records. Additionally, they reduce the chance of someone infiltrating your records room to obtain company secrets.
If you've set up a records management program, you probably have a proper backup system in place. However, it's never too late to implement a way to protect your records in case of a fire, theft, or any other natural disaster.
Limit Access to Your Critical Records
How many employees have access to all of your company records? Limiting who can access, re-file, and copy company records helps eliminate human error. This includes accidentally losing records, taking records offsite, having extra copies of critical files around the office, or even corporate espionage.
Make sure that employees who have the clearance level handle and dispose of all your records properly. The smaller that number is the better. Document management systems and cloud storage services allow you to set access controls for your digital files as well.
Label All Records, Files, and Cabinets Appropriately
Misfiled or misplaced documents cost your company money. Whether you have to search for it or reproduce it, you have to factor in the cost of the time it takes to find or reproduce that file, along with the additional chance that information may be compromised.
Make sure that you label all records, folders, drawers, and file cabinets clearly and properly. With a consistent labeling system, a record will more likely find its way back to the proper place. In addition, you reduce the chance of losing a record that could cost you everything.
Conduct Regular Audits
Once you have a records management system in place, you need to maintain the system.
Schedule regular audits of your critical records. They will help you maintain version control and reduce the chance of a data breach. You have a better chance of discovering when something valuable is missing.
Destroy Your Records Securely—and Document When You Do
Once you have determined how you're going to manage your records, you need to make sure to adhere to your document retention plan. Moreover, you need to take the time to properly and securely destroy your records as they pass their required retention time.
Destroying (and properly documenting) all your documents helps to reduce legal liability, reduce the number of records you store onsite, and protect your critical documents from getting into the wrong hands.
If You Need Secure Records Management, Let Our Experts Help
Record Nations can help you create a secure records management program. We'll help you manage or store your records and convert them to a document management system.
We can help set you up with the proper professional records management company that works best for your business. To get started, fill out the form, use the live chat, or give us a call at (866) 385-3706. Within minutes, you'll have several companies in your area to choose from.