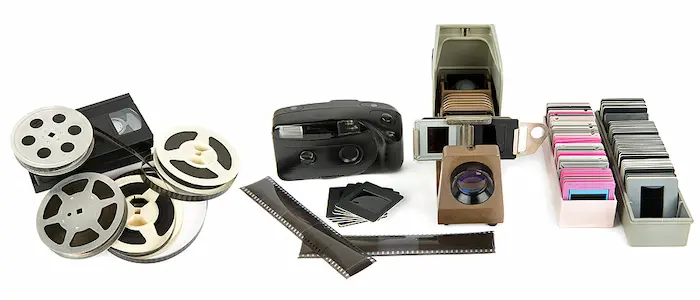 While slideshows and presentations are still a common feature of everyday life, as anyone in the corporate world knows, the old practice of photo slides and a projector are much less so. As more and more of our photography has become digital, old photo slides have begun to phase out. To make sure you preserve these valuable memories, it's important to know how to convert your photo slides to digital images.
What is a Photo Slide?
While commonly known as a photo slide the technical name for them is reversal films. The film is mounted onto a slide, and the combination is specifically designed for projection onto a wall or screen. Photo slides are typically used with a slide projector, which allows you to cycle through a group of photos that are inserted into the projector.
While there are several formats that photo slides come in, the most common is the 35mm. The good news is that there are scanning options available for all formats of photo slides.
How to Convert Photo Slides to Digital Images
When you're looking to convert your old photo slides, there are a few options available. Determining the best one for you depends on how many slides you need to convert, your technical know-how, and your budget.
Regardless of the method you choose, make sure to clean the photo slide carefully before scanning. This typically involves cleaning dirt, dust, or any residue that's accumulated on the slide over the years. Anti-static wipes, compressed air, and/or a dry towel will usually be able to clear anything that's built up on the slide.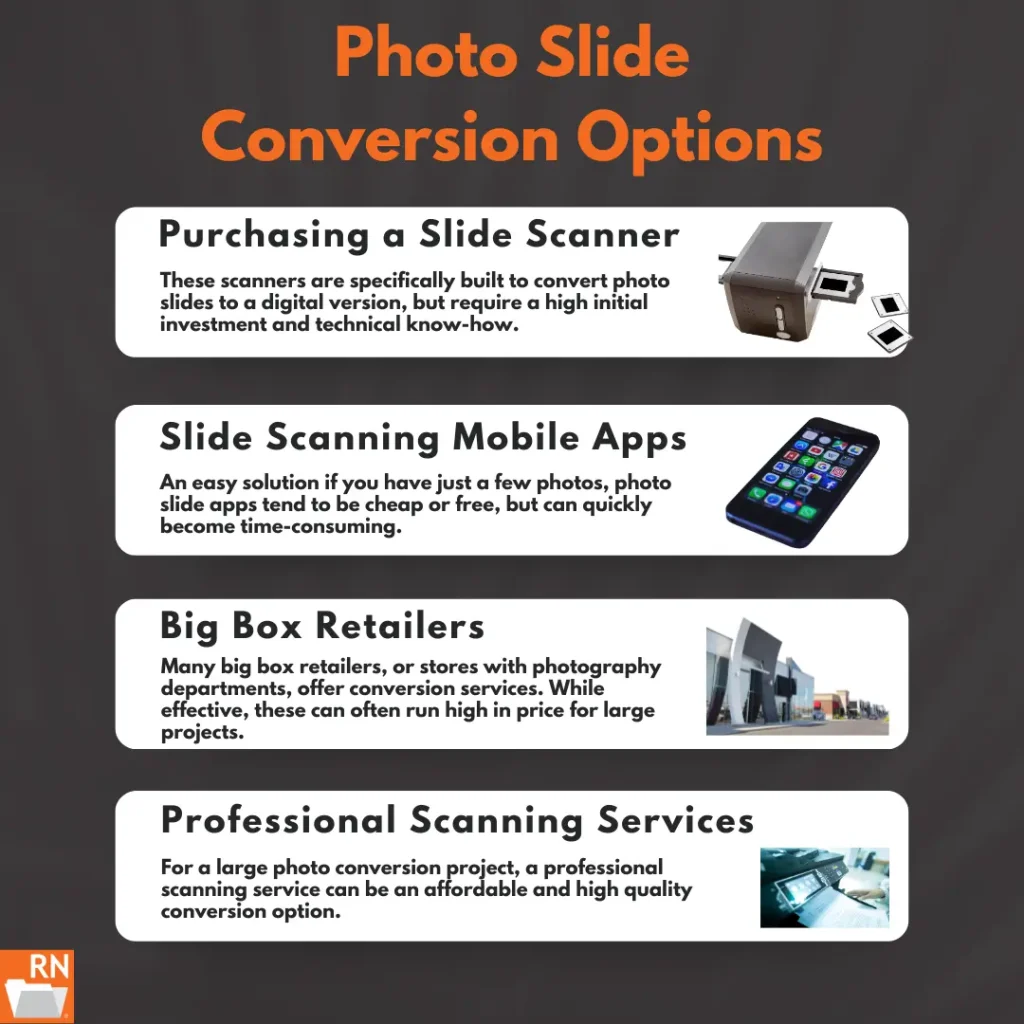 Purchasing a Slide Specific Scanner
Unfortunately, the vast majority of residential scanners won't be able to convert photo slides into a digital form effectively. However, there are specifically made scanners available that are built to specifically convert old slides into digital images.
While effective, this method does require a pricier initial investment, and requires a bit of knowledge or troubleshooting ability to do efficiently.
Slide Scanning Mobile Apps
A cheaper option, albeit a bit less effective and more time consuming, is a photo slide scanning app. With this method, you download a slide scanner app on your smartphone, take a picture of the slide, and the app converts it into a digital image.
Big Box Retailers
Large retailers with film departments, like Costco, Walgreens, or CVS, often offer services that can convert your photo slides to a digital image. These provide a good combination of effectiveness and convenience, but depending on the scale of your project, can be high in price.
Scanning Services
A final option for converting old photo slides to a digital format would be a dedicated scanning service. While it's likely not going to be a good option for small projects, bulk discounts, combined with the professional know-how of a scanning service, make them an effective option if you're looking to convert a large number of photo slides.
Reasons to Convert Photo Slides to Digital Images
There are two main reasons to convert photo slides to digital images, portability and preservation.
In a digital format, you'll be able to share the photos with friends and families and store them on your computer, phone, or even the cloud. While nothing compares to reminiscing about old memories with your friends and family, it's still nice to have them whenever you want to think back on old times.
Equally as important is ensuring that you'll have continued access to those memories. Physical film and photo slides can last a long time, but they'll eventually degrade in quality, and can be lost in the event of a fire, flood, or even be misplaced during a move. Preserving them in digital format guarantees that you'll always be able to find those photos.
Record Nations You Convert Your Photo Slides to Digital Images
Record Nations works with scanning providers around the country to help individuals and businesses scan and digitize their photos, documents, and more. Give us a call at (866) 385-3706, or fill out the form on the page, and we'll connect you to a scanning provider that will make sure your old photos are preserved for decades to come.