Making the move to use a different records storage system can be a daunting task for any business. Some businesses still prefer to use hard-copy versions of their documents, while others have completely switched over to scanning their documents into electronic records.
When it comes to storing paper records, a business can either outsource their storage needs at an offsite storage facility or manage them in-house in filing cabinets, binders, or storage rooms. And while paper storage may be the best option for some businesses, electronic document management systems allow businesses to keep their files organized so they can find their documents in seconds.
Understanding Your Options
While there are benefits and drawbacks to each system, it is important to understand all of your options before making the switch. This infographic provides a description of different record storage systems and connects them to the services they work with.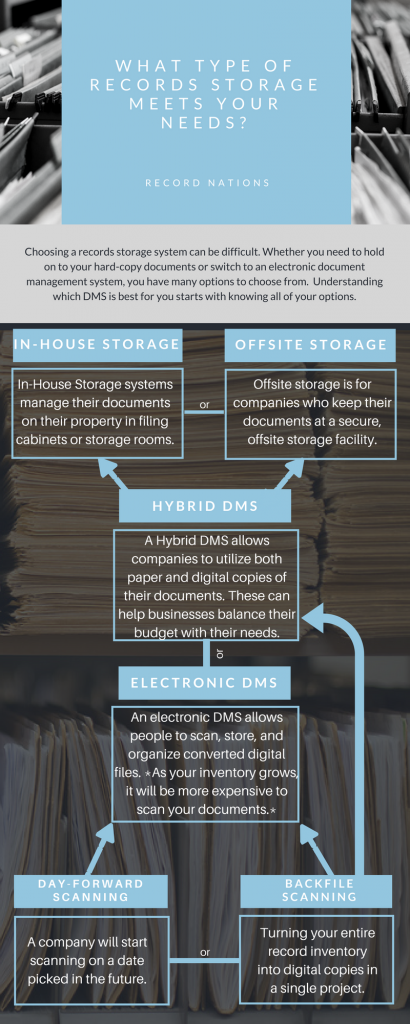 The great thing about record storage systems is how many options you have. If you want to move your documents to a secure, offsite storage facility, you can benefit from the valuable office space, protect your records from being misused, and prevent the threat of an environmental hazard.
If you are concerned about your budget, use a hybrid document management system that allows you to choose which documents you want to be digitized and which you'd rather file yourself in your cabinet. This way you can balance your budget by only digitizing documents that need to be converted.
Or, if you want to completely transform your records storage into an electronic document management system, then you have the option to start scanning your documents from a certain day forward with Day-Forward Scanning services or you can use Backfile Document Scanning and convert all of your records into digital copies in one project.
If you'd like to learn more about the benefits and drawbacks of each of the records storage systems, check out our article, "What Type of Records Storage Meets Your Needs?".
Ready to Change Your Records Storage System? Call Us Today!
Choosing to make the transition towards a different records storage system can be difficult. Let Record Nations help by connecting you to contractors in your area that will help you choose which records storage system is best for you and ease the conversion process.
To get started with a different storage system today, fill out the form to the right or give us a call at (866) 385-3706.
Our knowledgeable associates will be happy to answer any further questions you may have about records storage, and they will get you connected to the best contractors for your document scanning project — no matter where you are located within the U.S.