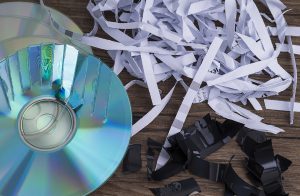 Digital media contains assets highly sought after by cyber criminals and data thieves. Old, or improperly destroyed digital media can pose a huge threat to any business. Proper electronic media destruction can help to alleviate some of those risks.
Cyber criminals and identity thieves are looking to get their hands on old, used electronic media devices. Items such as USB drives, hard drives, and CD's hold a wealth of sensitive and proprietary information. Items found on the secondary market are often bought and sold with the intent of extracting this data.
Even after erasing and wiping all your digitally stored files from these electronic devices, they still have the potential to be manipulated to retrieve old files.
Protect Your Information With Electronic Media Destruction Services
If your computers, laptops, or other electronic media devices once held any confidential files or information, make sure to have them properly destroyed to avoid any data breaches in the future. Taking this simple precaution can save money and years of rebuilding.
Items You Should Destroy
Computer hard drives

Laptops

USB drives

CDs, DVDs, or any disks

Credit and debit cards

Portable hard drives
Our partnered destruction companies make sure that each type of device is adequately shredded and unusable in the future. After the information is destroyed, the raw materials can then be sent for recycling. This helps to protect you, and the environment.
Get Free Quotes on Electronic Media Destruction Services
Record Nations partners with a nationwide network of local electronic media destruction companies to destroy your electronics and keep you safe from hackers and cyber criminals. We find the appropriate services and present you with free quotes to choose from. All in just a few minutes.
To get started, fill out the form on this page, give us a call at (866) 385-3706, or contact us directly using our live chat.