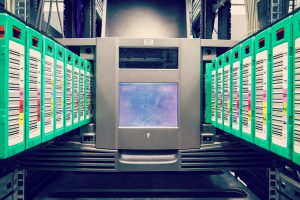 Backup tape vaulting moves your critical data offsite with the use of removable storage media. It is a great storage method to protect company records for long periods of time. In the event of a natural disaster or data center crash, backup tape affordably and accurately restores your information. 
Tape vaulting has been used by businesses as a fail-safe back up method for decades. It is a valuable storage system that contributes to business continuity and success. 
Why Do I Need Tape Vaulting Services?
Magnetic tape requires careful handling to last a long time. Vaulting services keep your tape in prime condition with temperature regulation and humidity control. We prevent damage with fire suppression, magnetic shielding, and vapor barriers. 
We also provide next-level security to protect your private information. Our facilities are equipped with 24/7 surveillance and high security.
Protect Your Backup Tapes with Rotation Services
Rotation services combined with vaulting is the best method for using backup tape. Tape rotation ensures that your data is up-to-date and accessible, while protecting the tape from excessive wear and damage.
Your tape rotation schedule will depend on your company's specific needs and volume of data. Smaller companies can usually make do with simple rotations plans, while those handling extremely sensitive information or high volumes may require a more complex rotation program. 
Get Free Quotes on Backup Tape Vaulting and Rotation Services Near You
Backup tape vaulting and rotation services are available nationwide with Record Nations. We have a network of record management experts in nearly every city across the country. Our providers are experienced, high-quality, and affordable. 
Contact our providers today by calling (866) 385-3706 or filling out the form. Within minutes, you will receive free quotes on your tape vaulting and rotation project.