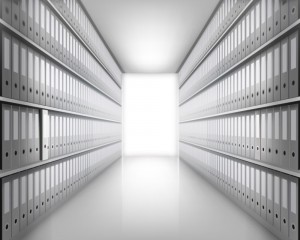 Keeping up with your companies records can be a process within itself.  It is essential to keep your records as protected as possible for the success of your business, as well as for the protection of your customers.
There are plenty of ways to keep track of your records, but what is the best way for you to keep your records safe?
If you keep all of your documents in paper form, you will want to look into offsite records storage.  Not only is it for your safety, but it also makes sure that you keep some of that clutter away from your office.
If there were to be a natural disaster, are your companies records in danger.  Don't  put your company at risk to lose your important business and client information.
Offsite Record Storage Can Help You Manage Your Records Easier
When it comes to managing your business documents and records, you need to have a way to protect your confidential and critical information, and store archived files.  This is where offsite storage can help you.  Since your records are stored securely climate controlled rooms, you don't have to worry about losing important information.
If you truly care about your business, you will look into all different options when it comes to your companies records.  It has been said that if a company loses their documents, their company goes under within a year because it is so difficult to rebuild a business from the bottom up.
Off site record storage helps to clear up that space to allow other necessities in the office, while still giving you the peace of mind that your important information is safe. Not only does offsite storage free more space, it also promotes savings, safety, and productivity in the office.
Looking for Offsite Records Storage? Record Nations Can Help!
Record Nations has been providing document management solutions for over a decade.  Let us help you find the right document storage solution for your business.  Let our experts help you choose the right document storage solution for your business.
To get started, fill out the form on the top right of this page, or give us a call at (866) 385-3706. Within minutes, you'll have several companies in your area to choose from.