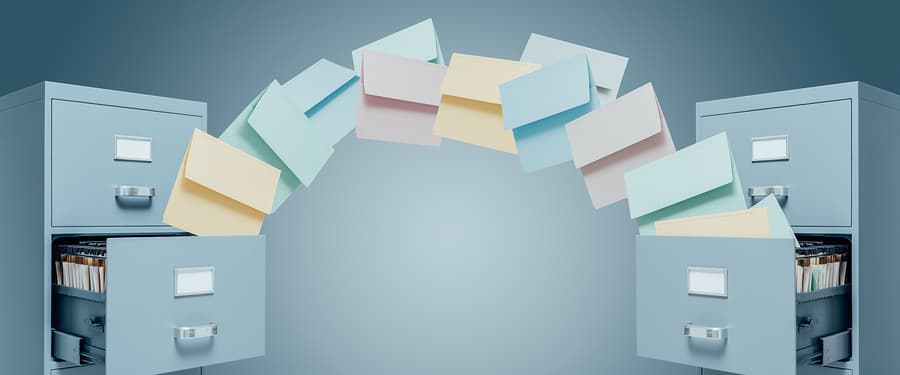 Keeping your records protected is essential to any business that deals with personal information belonging to both their customers and their employees.
There are plenty of ways to keep track of your records. Storing offsite with an offsite records storage service is an option many businesses are taking advantage of. While keeping the clutter out of your office, the added layer of security makes offsite storage a popular choice for handling of physical, paper records and other files.
Benefits of Storing Records and Documents Offsite
The benefits of offsite records storage can be clearly divided into two main categories: convenience and security.
Convenience
Records, documents, and other paper files usually have a retention period for business use or requirements by law. Saving office space that would normally be used for storing these papers is a big benefit that can make an impact right away.
Filing cabinets and storage boxes are repurposed to be usable space for your employees.
Security
Storing papers at the office that contain vital information are heavily regulated in order to keep the information safe. While these regulations have well-placed intentions, they can become a burden on a business, both large and small in scale.
Offsite storage services offer reliable and secure services with papers being held in climate-controlled facilities with 24 hour surveillance. These conditions are built to keep all records protected and goes a step further than what normal businesses are equipped to handle.
Pickup services for documents that might need to be archived regularly

Consulting services

Access to your documents with on-demand retrieval (usually 1-3 business days)

Certified document disposal including shredding services
Find Out More About Records Offsite Storage Services
Records storage and document storage services know their business better than anyone. To speak with offsite storage professionals located in your local area, use our request form or give us a call at (866) 385-3706.
In just minutes, we'll connect you with the best storage providers in your area that can customize a FREE quote based on your project needs.