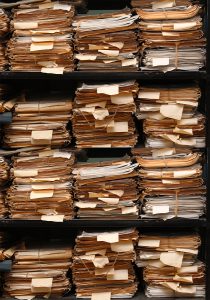 Record storage services help businesses have better control over their documents with secure and cost-effective storage solutions. We can archive files and store active records with offsite storage, store digital files on the cloud, and set up document management system software to organize and oversee your digital information.
Record Nations will help you streamline your workflow with better organization, accessibility, and security. We are a nationwide storage provider with expertise in the handling of records. Our storage providers will gladly take care of your routine document organization tasks, so you can focus on running your business.
How Does Document Management and Storage Benefits Businesses?
Efficient document management and secure storage play a huge role in effective business. With a well-run system, you will have less wastefulness, saving you time and money. The benefits don't stop there. Below is a further explanation of how record storage services can benefit your business.
Control Costs
Record storage services help reduce overhead costs by clearing out valuable office space for profit-generating activities. Whether you are moving files offsite or converting to digital storage, you can lower storage costs with our services.
Save Space
Organized storage reduces clutter and opens up space in your office. You will be able to use your space for other purposes and promote productivity without having to wade through piles of paperwork to find the information you need.
Increase Protection
Offsite storage facilities include high-security features to protect your documents and records. We offer 24/7 surveillance, live patrol, strict access controls, and advanced digital security. We also prevent damage with fireproofing, temperature and climate controls, flood protection, and underground vaults.
Increase Efficiency
Organization is the key to efficiency. When your team can access and retrieve the documents they need, they will be able to quickly get to work, communicate effectively, and complete projects.
Maintain Compliance
Record Nations complies with all applicable federal and state security laws to protect your private information. We will make sure that your records are handled properly to maintain confidentiality and compliance at all times.
Would Your Business Benefit?
All industries can benefit from reliable document storage services. To better serve your business, we offer industry-specific services to tailor our document management solutions to the specific needs of your industry. Here are some examples of industries that can benefit from Record Nations storage services:
Record Storage Service Options
Record Nations offers a variety of services to meet the needs of all kinds of businesses. Below are some of our popular service options. We can customize or mix and match services to build you the perfect document management system.
Secure document storage is critical to protect private business and customer information. Your physical documents will be safe in our secured storage facilities.
Cloud storage allows you to store your documents digitally to save money and space. We use innovative technologies to protect your documents while giving you access from anywhere with an internet connection. Enjoy features like two-factor authorization, password protection, and advanced encryption.
DMS software creates structured organization for your digital documents. You will have more control over your information with document indexing, document processing, quick search, and workflow automation.
Tapes, microdata, and other media types require specialized storage to be handled properly. Our facilities are designed to manage this type of media with rotation services, delivery, consultation services, and inventory auditing.
Get Free Quotes on Storage Services with Record Nations
Effective document management can be complicated and hard to maintain for busy professionals. Record Nations is here to simplify the process with reliable document storage solutions. We partner with local storage service providers nationwide to offer services for organizations large and small.
We would love to assist you in building the ideal document management system for your company. Give us a call at (866) 385-3706 or fill out the form to connect with providers near you. We will send you free, personalized quotes on records storage in just minutes.