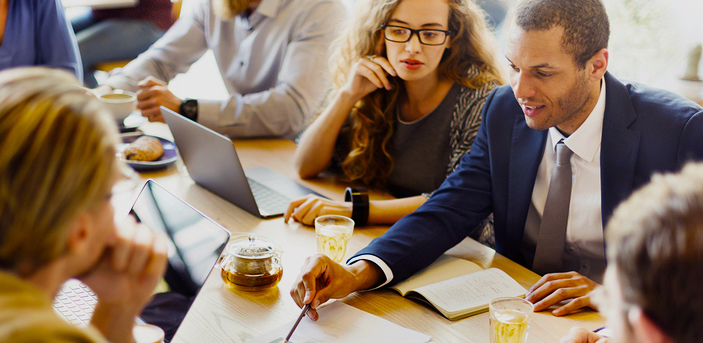 Rather than filing cabinets taking up space in corners, implementing offsite storage with a records management program opens up multiple opportunities to streamline daily workflow and save money during the process.
In this video and transcription learn more about what offsite records storage is, how it saves companies money, keeps information protected, and boosts a business's productivity.
What Is Offsite Records Storage
With offsite records storage boxes of records are kept in a secure and climate-controlled offsite facility rather than being kept in the office.
Freeing up extra space and boosting productivity, boxes of records can be stored for 50–95 cents per box per month and can be retrieved by providers at any time.
Saving Money by Storing Offsite
While onsite storage might have a lower direct cost, its indirect costs are both expensive and can quickly stack up.
Compared to offsite storage's flat fee of less than $1 per box, storing records onsite will also include the cost of storage space, labor, and filing cabinets themselves.
Comparing Offsite vs Onsite
To compare the costs of using offsite vs in-house storage, below is an example table using average annual costs for 10 employees making $20 per hour to store 10 boxes offsite and onsite for 1 year:
| | | |
| --- | --- | --- |
| Cost Factor                                       | Offsite Cost | Onsite Cost |
| Filing Cabinet Costs (average $3,000; 4 boxes per cabinet) | $0 | $9,000 |
| Space (7 sq. ft. per cabinet @ $7.50 per sq. ft.) | $0 | $1,890 |
| Rented Storage Facility Space ($0.50–$0.95 per box per month) | $60–$114 | $0 |
| Labor Costs with single file manager ($50,000 average salary) | $0 | $50,000 |
| Labor Costs without file manager (10 employees @ $20/hour;  filing for 15 min per day) | $0 | $13,050 |
| Total Annual Cost w/ file manager or offsite storage provider | $60–$114 | $60,890 |
| Total Annual Cost without file manager | — |  $23,940 |
Storing With Layers of Security
While storing sensitive information onsite can put records at risk of damage and misuse, offsite records storage uses multiple safeguards to keep information protected.
Theft Prevention
To prevent theft and break-ins, offsite storage facilities are armed with 24/7 video monitoring systems along with guarded facility perimeters, entries, and interior areas as well.
Environmental Damage Protection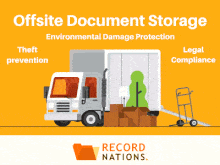 Losing information altogether can be just as bad as having it stolen.
To prevent the risk of fire and flood damage to records both in an office as well as an offsite facility itself, storage areas are equipped with fire-suppressants for heat damage and climate-control systems to manage temperature and humidity.
Legal Compliance
Offsite records storage helps to ensure compliance with records retention and management laws like HIPAA and FACTA.
Upon storage predesignated records boxes are marked and retained for their set period, and once retention times expire the facility uses in-house shredders to securely destroy old information and ensure legal compliance.
Additionally, when shredded at an offsite facility a certificate of destruction is provided afterward—giving physical proof of legal compliance.
Boosting Productivity In the Office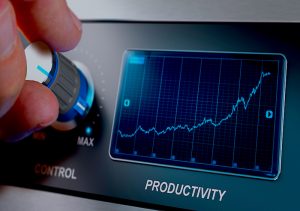 Keeping records offsite benefits work efficiency in several ways, including opening up valuable office real estate to use for revenue-generating purposes like new employees.
Likewise when it comes to work itself, the fast retrieval services for stored records also removes the need for employees to personally search for and refile information—helping to streamline the office workflow.
Combining Storage With Shredding
At a certain point every record will no longer need to be kept, and when records are stored offsite a facility can also help with destroying and disposing old records.
Rather than shredding yourself, offsite storage facilities either have a heavy-duty industrial shredder that's kept onsite or partner with a shredding provider to destroy obsolete information.
Looking to Store Records Offsite?
Whether it's finding more details on records storage costs, benefits, processes, or how to find the best storage strategy to suit your needs, Record Nations can help to provide all the tools and information you need.
For more information on different storage services, or to get a free, customized quote for your storage needs give Record Nations a call at (866) 385-3706 or use the form on the right. In just minutes, you'll be connected with our network of professionals ready to take your business to a more efficient and secure level.