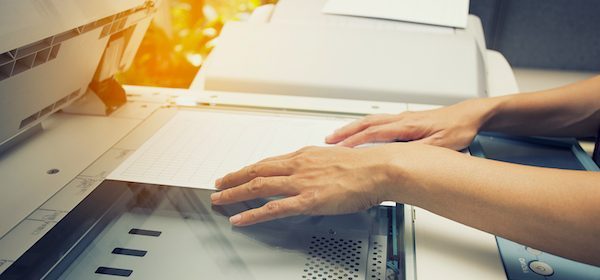 As technology continues to improve, going paperless is becoming more and more common—and in some cases like healthcare, it's now standard. From saving money in both the long and short-term, to increasing productivity and security right from the get-go, there are numerous reasons to scan your records.
In this video learn more about the top 10 reasons to scan documents and go paperless, with benefits ranging from streamlining collaboration and distribution to simplifying compliance with industry laws and regulations.
Why Scan Records
As technology improves, scanning and going paperless is becoming more common, and in some cases, it's now standard. Scanning records opens up multiple ways to benefit, including greater efficiency and productivity, more secure storage, and most importantly cost savings.
#1: Prepare for a Digital Future
Scanning records from old formats and implementing digital records management increases accessibility and speed.
Besides efficiency, laws like HITECH for healthcare also now legally require the meaningful use of health information technology.
#2: Boost Your Security
Scanning records and storing in a digital management system provides extra security in a few ways:
Access Controls for internal security
Firewalls and Antivirus for external risks
File Encryption in case of an external breach
#3: Simplify Compliance with Disclosure Laws
Laws like the Sarbanes-Oxley Act (SOX) require records to be readily available and quick to produce in case of an audit. Using digital records management software, files are indexed and can easily be tracked down with the help of keyword search functions.
#4: Easy Backup and Disaster Recovery
Compared to paper, making a digital backup copy of a record inventory is by far faster and easier. Scanned documents can be backed up to remote servers, and if all the primary copies were somehow destroyed, the backup copies can be quickly retrieved and restored.
#5: Streamline Collaboration
Using a digital system to manage records centralizes information and makes it easier for teams to work together on the same document. For example, digital records can be accessed and edited at the same time, and can also be accessed anywhere there's an internet connection.
#6: Make Distribution More Efficient
Prior to digital records, the time involved with paper correspondence was a major bottleneck. Using email & digital document management software the time needed to send and receive information is greatly reduced—benefitting not just you, but consumers as well.
#7: Improve Records Management Time & Efficiency
A single employee may spend just 10-15 minutes a day looking for and refiling record,s but over the course of a year the cost of that time adds up. With digital records, on the other hand, they can be retrieved with a keyword search, and don't need refilling once you're done.
#8: Save Valuable Space
Millions of documents can be scanned and uploaded to a storage server. By contrast with a 3-drawer file cabinet, fewer files can be stored and use up more space—in addition to the cost of filing cabinets themselves.
#9: Going Green
Paper is recyclable, but when you don't use paper at all there's no recycling needed. In addition, by going paperless you also reduce the use of printer ink and the energy needed for climate-controlled storage.
#10: Saving Time and Money
Above all, document scanning's greatest benefit is its cost savings. Going paperless helps save money in the long and short-term in a few ways, with advantages including improved work efficiency and lower storage costs.
Looking to Scan Your Records?
Join Amazon, Google, and other companies we've helped to scan records and adopt a paperless system for managing information.
We work with a nationwide network of providers in order to help connect you with the best scanning services to meet your budget, schedule, and other requirements. For help finding your ideal scanning option, give Record Nations a call at (866) 385-3706 or fill out the form to the right.