Medical record scanning and medical record storage coincide to keep medical records and billing information safe and within compliance. Scanning allows you to digitize your medical practice, while storage provides a safe place to store physical documents that need to be retained as backup or for legal reasons. 
Record Nations Akron has professional scanning and storage providers that specialize in both to cover your practice on all sides. Their image processing and storage facilities are HIPAA and HITECH compliant. 
Bring your practice into the modern era with digital records. Your staff and patients will enjoy the accessibility and continuity of care that comes from efficient document management. 
Preparing Medical Records for Scanning in Akron
Medical records are protected by strict HIPAA privacy regulations because they contain personal health information (PHI). Converting to an Electronic Health Records System (EHR) helps you better manage patient care and protect patient information by increasing security and reducing errors.
Scanning is the first step in digitizing medical records. It is a hassle-free process that will improve the flow of information and save you money on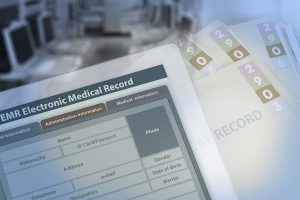 physical storage. 
Here are the steps to get started with your medical record scanning project:
Call us at (330) 318-3243 or fill out the form.

We will ask for some details regarding your scanning project and match you with local providers based on your needs. 

The local providers will send you free price quotes customized to the specifics of your project.

You can review and select the provider that best fits your needs. Together you can begin transforming your practice into a digital system. 
Medical Records Storage Services
Even with an EHR system, you will likely need to store some physical records. With offsite medical records storage services, you will have access to your records if they are needed for retrieval or as backup for critical records.  
Our storage facilities are secure and constantly monitored to keep your information safe. You set the security for your files and can limit access as needed. 
Medical Records Custodian
When a healthcare facility closes, a custodian, often a storage company, is appointed to manage the patient records. Each state has different rules and guidelines for how long a record needs to be stored.
Custodians of medical records can store physical copies in a secure storage facility or scan the documents and store them electronically using an EMR system. With either option, patient records must be readily available upon request. Failure to produce forms could result in fines or penalties.
Record Nations Akron can help you find a local provider to manage your records, release needed information and destroy the records after the retention period. 
Get Free, No Obligation Quotes on Medical Record Scanning and Storage in Akron
Protecting patient privacy is crucial. Not only are you legally obligated to protect private medical records, but your practice can run more efficiently and provide better care when records are organized and accessible. Call us at (330) 318-3243 or fill out the form to receive free quotes on medical records scanning and storage services. We will connect you with local providers and get your project started right away.
Record Nations Akron Location
Record Nations Akron
590 N Main St
Akron, OH 44310
(330) 318-3243
Email: akron@recordnations.com
Our operating hours are Monday-Friday from 8:00 AM to 4:00 PM.
Record Nations proudly serves these cities near the Akron area:
Beachwood | Canton | Cleveland | Fairlawn | Kent | Macedonia | Mentor | Richmond Heights | Wooster |