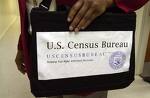 Last week, the U.S. Census Bureau began the task of tallying all of the people in the United States. The effort started in Noorvick, Alaska, with the traditional door-knocking practice that aims to classify all Americans by age, race, gender, occupation, and a host of other categories. The hope is to provide an accurate picture of who lives in the United States.
The $300 million project will generate about 90 million forms, and be used to determine how election districts are defined, where to build schools and hospitals, and how to track residents in the event of a natural disaster.
The project is intensive and creates a massive amount of paper. By law, the Census Bureau is charged with maintaining the privacy of the information it collects. For example, it's against the law for the bureau to disclose names, addresses, social security numbers or telephone numbers obtained in their data collection process.
In an effort to provide full disclosure by participants, census data cannot be used against you, by any government agency or court. In fact, all census bureau employees are required to take an oath of nondisclosure.
The data they collect must ultimately be scanned electronic files, and the original papers must be shredded to protect the privacy of Census participants.  The United States Census is one of the biggest projects the government undertakes, and it is representative of a process of that typifies the life cycle of a paper document.
Data Collection
The U.S. Census Bureau hires hundreds of people across the country to collect data on every resident. The data is tallied on paper documents that are stored at regional offices throughout the United States. In technical terms, "Data Collection" describes the act of preparing and collection data. A formal data collection process is critical because agencies and organizations make important decisions based on the findings.
Records Scanning
Once the data is collected, the next step for the U.S. Census Bureau is to convert the information to a usable, electronic format. This process is called "records scanning." Each Census form consists of an 8.5″ x 11″ booklet. Once gathered, all of the forms must be scanned so the information can be analyzed, applied and archived. The information must be handled carefully to ensure no errors result from mis-feeds, double-feeds, creasing or other problems.
Paper Shredding
Once the information from the Census forms is converted to a secure, electronic format, there is no need to store the paper copy. The forms are shredded by a professional paper shredding service and ultimately recycled.
Data Analysis
he last and most important stop for the Census Data is to be published an analyzed. This must happen within a 90-day window of collection. The information is used to determine population centers and trends. Ultimately this data will be used to redraw congressional districts, provide funding to schools and hospitals, and studied to evaluate long-term trends.