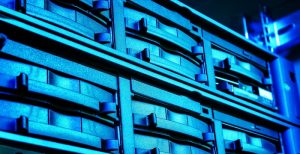 It is easy to see that data is the foundation of a successful business. While most businesses back up their data to removable media, tapes or USB drives being the most common, many businesses leave the backup tapes right next to the server. The risk they fail to foresee is the destruction of the office by fire or flood.  It's important to prepare for disaster recovery.  Being prepared can help eliminate some of the long term affects of losing data unexpectedly.
Both the server and the backup will be useless if the room no longer exists. Unfortunately, some owners discover that getting back up and running is beyond their cash reserves.
Disaster Recovery Preparedness Starts with a Data Recovery Plan
A data recovery plan should include creating backup tapes and then storing them in an offsite storage location. The storage location should be different from your business because the tapes should be rotated regularly, handled properly, and stored in a secure, climate-controlled facility. This provides insurance and gives business continuity after a disaster.
Where Are Your Backup Tapes Stored, and How Can You Access Them?
Your offsite backup tapes need the environmental controls of a media vault so moisture and temperature fluctuations can't damage them.
Make certain that all your records can be easily accessed by anyone with the proper clearance. For example, you don't want just one person to have access to your backup files. After a natural disaster, everyone will have to work in different capacities.
How Can You Make Data Disaster Recovery Possible?
Many businesses outsource their tape rotation to an offsite tape storage provider. On a regular schedule, a uniformed employee rotates the backup tapes from the business location.
Once the tape is picked up it is scanned into a tracking system just like an overnight delivery service uses. The tapes are transported in unmarked vans and stored in secure, climate-controlled vaults.
A tape rotation service also offers twenty-four-hour access to the tapes and delivery to a recovery location of the business' choosing.
Other businesses use an online storage service. In this case, the data is backed up, encrypted, and then sent via the internet to a secure location.
The issues with secure transportation are eliminated as long as the data is properly encrypted. With small amounts of data this is a good solution, and as the volume of information grows the economic value of its large storage capacity will grow as well. The business just needs to make sure there is a large bandwidth at the recovery location.
Even more important for the small business owner will be the consulting service can offer. How to set up backup software and hardware can be a mystery to the inexperienced.
This disaster recovery expertise helps assure that the data is saved correctly and when needed will be easily loaded onto a replacement server.
If a hard drive or server is damaged, you also have the option of hiring a hard drive recovery service to try and recover the data from computers that you thought you lost.
No matter what solution you choose, make sure your business data is backed up periodically and stored in a secure offsite location.
Get Free, No-Hassle Quotes on Disaster Recovery Services Today!
Record Nations provides document and data management services via a network of highly specialized partners nationwide. We have over 20 years of experience in document and data management services and will help you select a customized document management solution that fits exactly what you're looking to do for your company.
If you would like a custom quote for your data backup or storage needs. Records Nations has locations all across the United States. To get started, fill out the form to the right, or give us a call at (866) 385-3706. Within minutes of receiving your request, you will have free quotes from experts in your area that can help you.