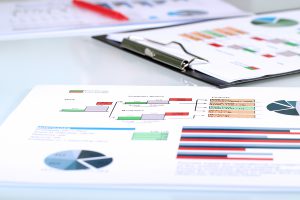 The rise in privacy concerns and the resulting laws and regulations have made records storage a top priority for every company. One miscalculated step can snowball into putting the entire company in jeopardy.
While it is obligatory and advantageous to keep your company records well-documented and available for everyday use or government investigations, retaining records beyond their usefulness can expose businesses to litigation risks.
In the world of records storage you are always walking a fine line between retaining the wrong information and destroying required documents. The solution in its entirety is beyond the scope of this article, but there are records management services all across the country that are experts in this very delicate matter.
What is a business record?
A business record is defined as information that is stored for a set period of time for regulatory, business, or legal workings.
How long should you keep a business record?
Typically, any tax records should be kept for 6 years after filing, although the IRS maintains that you keep your supporting tax records for 7 years.
Other business records, including client information, employee records, and financial documents, should all be kept in secure storage that are accessible only when you need them. These must be destroyed properly when they are no longer needed, so utilizing a regular shredding schedule for old and unneeded records is crucial to keeping this information protected.
Off-Site Record Storage Explained
For a space-saving solution for record management, off-site storage may be the answer for your business. Your files are stored in a climate-controlled facility with 24 hour surveillance, creating a safe and sustainable environment for your papers.
This can save precious real-estate in the workplace to be used for more productive purposes while your files are kept secure. You can even request on-demand retrieval services to have your files delivered to you when you need them.
Use this infographic to learn more about off-site records storage: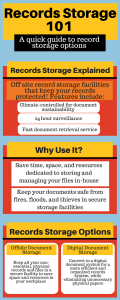 Methods of Destroying Records Properly
Shredding is the most commonly accepted way to properly destroy your records. Paper shredding services specialize in destroying large volumes of papers at once, making the entire process fast and easy.
There are two main ways to shred papers for your business at large scales:
Mobile Shredding
With mobile shredding, a mobile shredding truck comes directly to your curbside and shreds any and all your papers right on site. You can witness the entire shredding process, for personal or legal reassurance, and receive a certificate of destruction following the procedure.
Off Site Shredding
For a regularly scheduled shredding service or for large volumes that can't be handled by a mobile shredding truck, you can choose the off site shredding service. Here, a secure truck will pick up your papers in bulk, stored in locked boxes, and transport them to an off site shredding facility.
Get Free Quotes on Records Management Services Near You!
Do you need a better way to store your documents? If you have stacks of paperwork that are piling up and taking up too much space and need a way to organize the mess, call us today at (866) 385-3706 or fill out the form on the right for free quotes.
Our professionals can optimize your document management, saving your employees time and your business money.