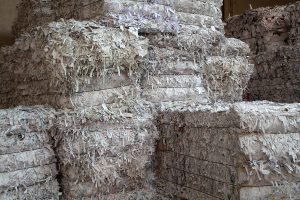 Off site shredding collects documents and files from your office and transports them to an off site facility where the documents shredded quickly and securely.
If you have a large quantity of papers that need shredding or accumulate papers regularly, off site shredding will be one of the most convenient and cost-effective options available for you.
How Off Site Shredding Services Work
First local contractors leave secure, lockable bins in your office to store documents that require shredding.
Next a time is scheduled for a service truck to pick up your bins, which are then transported to an off site shredding facility.
Afterwards your papers are co-mingled with thousands of others and cross-cut shredded for added security.
Finally all paper remains are then recycled by our eco-friendly shredding contractors.
Get Free, No-Obligation Quotes on Off Site Shredding Services
Record Nations works with an extensive network of local off site shredding providers to securely shred away all your documents following a scanning project. We offer free, no-obligation quotes, allowing you to choose the service provider that best meets your business's needs.
To get started, simply fill out the form on the page, give us a call at (866) 385-3706 or contact us directly using our live chat.