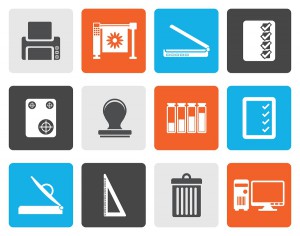 There are 4 key steps when it comes to the scanning process. When the whole process is broken down by step, it really makes the whole transformation less intimidating. Here we go over every step in detail and give you a better understanding of what will be expected as you convert to a paperless office.
The 4 Key Steps in The Scanning Process
Scope Out The Project
When starting a scanning project the most important thing you can do is get the scope of the project. This will help you establish how long the project will take, the cost, and how many resources should be devoted to it.
A standard file box (10" x 12" x 15") will hold around 2,500 pages of records or documents. A standard shelf holds around 200 pages per inch.
Most projects can be estimated based on these averages. This is more accurate than attempting to estimate a number of files and then trying to estimate the number of pages per file.
Organize
Organize all of your documents by how you would like them to be scanned. Make sure everything is in the right order and clearly labeled. It's important to remove staples and paper clips if possible. The more work the contractor has to do the more expensive the project will be.
Index the Documents
Document indexing is the process of associating or tagging documents with different "search" terms. These terms can be defined by the company using the preferred organizational system. If your documents are text documents, you might have indexed the documents for full text search where you can find a phrase contained in the documents.
All electronic document management systems have some level of system indexing too. Default system indexing might be the date or document type or some other identifier that describes the document. Setting up the indexes is one of the key factors in having a successful document management implementation.
The most obvious goal of good document management is to save time looking for the right papers. It is common to find professionals wasting time digging through files to find the information they need. Document indexing eliminates this file searching frenzy and creates a smart, easy way to locate files in seconds.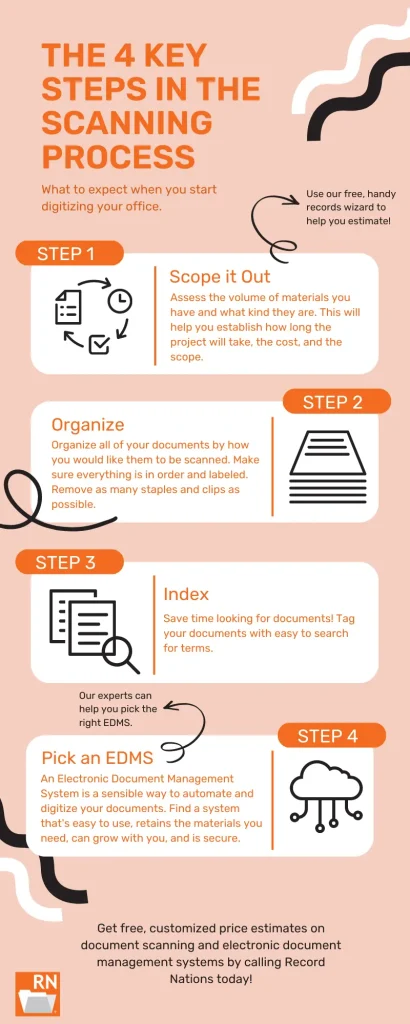 Pick the Right EDMS
An Electronic Document Management System is a system used to create, capture, index, distribute, review, maintain, store, retrieve and dispose of electronic documents.
EDMS is a sensible way to automate and digitize your documents, reduce the time it takes to find, file and store your documents, and a simple way to give everyone you choose access to any file in your business. Here are some tips to help you find the right EDMS solution for you:
Find a System that's easy to use.
Does it have a logical search function?
Make sure you have tight security.
Purchase a system that grows with business needs.
Keep archival record retention capabilities in mind.
Can it store your emails too?
It has to have support that works for your business.
Check out this article on The Growth of the Electronic Document Management Industry for a more in depth list of these features.
Get Free, No-Hassle Quotes Today!
Record Nations can help you eliminate some of the hassle of finding an electronic document management system for your business. We have network of EDMS specialists that can help you select the right option and the right service that fits your needs.
Fill out the form to the right, or give us a call at (866) 385-3706. Within minutes of receiving your request, you will have free quotes from experts in your area that can help you.