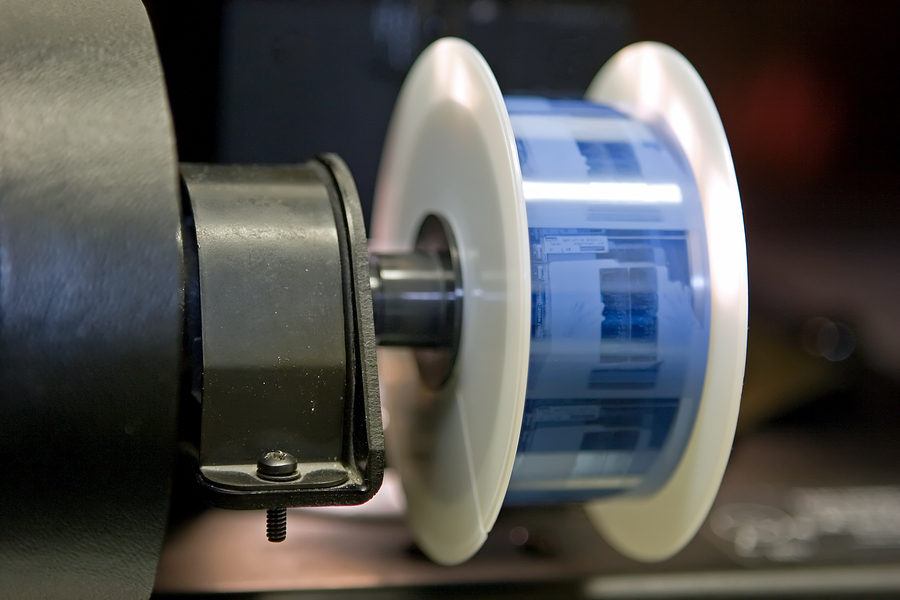 Data storage is an issue that can plague companies and organizations of all sizes, and mismanaging this sensitive area can leave your business lagging behind a data-driven world.
Before the technological advancements that allowed for massive amounts of data being stored in smaller and smaller mediums, microfilm was the go-to answer for reliable and high-volume data storage. Microfilm, with a shelf life of close to 500 years, helped to store data in a sustainable and long-term use.
What is Microfilm?
Microfilm uses a motion picture film roll to store with tiny micro-reproductions of document images, with capacities ranging from 600 engineering drawings to 2,400 standard documents. With the files usually being just 1/25 of their original size, durable storage options are able to be handled in lesser physical capacities.
What is Microfiche?
Much like microfilm, microfiche uses the same data-reproduction technologies to store files in smaller capacities. Microfiche differs from microfilm in the type of storage medium, with the reproductions kept on a flat 105 x 148 mm roll of film sheet, as opposed to the film rolls that microfilms employ.
Microfilm and Microfiche Scanning
Microform data storage were, at one time, the most viable option for long-term data storage in large-volume capacities. Due to the demand for a more accessible medium for data, microfilm and microfiche were soon left behind. However, many companies still rely on this data storage, while others are looking to transfer all this data to a more innovative direction.
Microfilm and microfiche scanning services are the answer in this critical move. Document scanning companies allow conversion of microfilm to digital format.
By converting microfilm to digital records, you can easily share them across different organizations and locations. A scanning service helps to eliminate the time wasted in searching for physical documents since the digital documents are all available with a few strokes of your keyboard.
Converting to a digital medium for your microforms is also much easier than you think. Document scanning services have handled the conversion process since it became a less popular option decades ago, perfecting their techniques throughout.
6 Steps to Prepare Microfilm for Conversion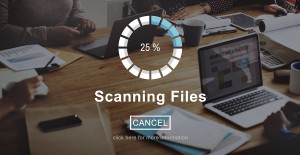 However, as a part of the conversion process, it is important to prepare the microfilms beforehand.
While the following services are performed by the document scanning company, it is imperative for a business owner to know the procedure in and out. It goes as follows.
Identify the films that are to be converted. They are then handed over to professionals from record scanning company.
Next, microfilm scanning is performed which is a process aimed at extracting the original image of a document from the microfilm. This image is extracted in the TIFF format usually.
Once the image is extracted, an image clean-up is performed. This is when a variety of techniques are applied for image enhancement. This step is the solution to all issues in documents such as character repair, punch hole repair, dilate, erode, skew etc.
In the next step, techniques such as Intelligent Character Recognition and Optical Character Recognition are used in order to improve the accuracy of results.
OCR and ICR are then used so as to capture the desired data on documents and forms.
Finally, the record scanning company takes measures to ensure that both hand written and machine written data is extracted.
Once all this is done, the microfilms are now deemed fit for conversion.
For an Overview of the Concepts Outlined Above, Use the Infographic Below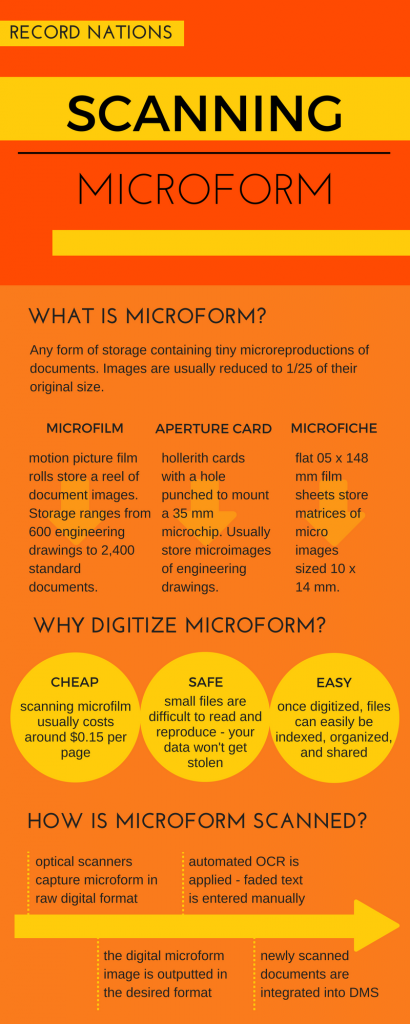 Get Free Quotes on Microfilm & Microfiche Scanning Services Today!
Get microfiche conversion from the experts at Record Nations. Our microfiche conversion solutions takes the stress off your employees and gives you reliable documents you can easily access.
We work with a team of experts across the country to provide you with the microfiche conversion solutions that your company needs.
It is important to find a company you can trust to help you manage your important documents and records. To get started, fill out the form to the right, or give us a call at (866) 385-3706.  Within minutes of receiving your request, you will have free quotes from experts in your area that can help you with your records management and backup.
If you'd like to learn more about tape vaulting and tape backup, visit our articles section!