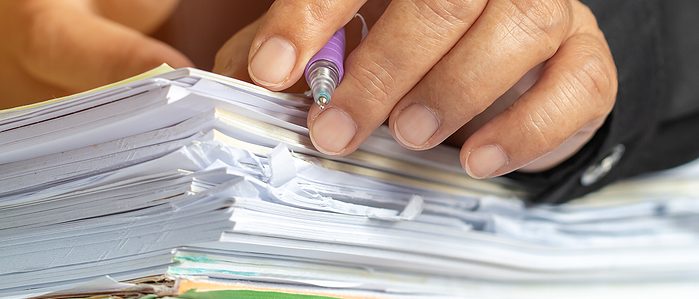 Throughout the school year, students accumulate tons of documents which end up around the house. Students use papers every day to take notes, fill out homework, and more. It's only a matter of time before the papers take up too much space.
Teachers have systems in place to help the classroom, including filing cabinets and other storage solutions. However, this does help parents at home.
The Problem: Countless School Documents Taking Up Space
In light of the recent pandemic, schooling has drastically changed over the last few months. While every school is different, many students are working from home, hybrid solutions, and more. This may be increases the amount of schoolwork coming and staying home.
Some of the risks of having too many papers around is accidentally throwing away important documents or turning in the wrong assignment. Additionally, papers can easily be lost and separated. Without a proper desk or storage area, it can be difficult to organize and manage the papers.
The Solution: Scanning Your Student's School Documents
When it comes to handling, managing, and organizing papers, this can be difficult to navigate. However, document scanning offers unique solutions and advantages for student records.
Scanning stores the records digitally which means you can access them whenever you need to. Additionally, scanned records can be easily found and retrieved. Scanning also helps keep the home organized and clean, so instead of searching for papers, more time can be spent with the family.
While it's easy to access the documents, that doesn't mean it's not secure. Digital documents can have security aspects in place, such as encryption and password protection. This ensures the documents remain safe and only accessible when you want them.
How Scanning School Records Works
The scanning process is rather simple. The documents would be selected and gathered. After selecting the specific documents, the scanner would convert the papers. This would help manage all of the student's records and other important documents.
Day-forward scanning is the perfect solution for transition into digital. The first step is to schedule the scanning. Afterwards, the documents go through backfilling before the conversion process. Then, the records are smoothly transferred over.
Need Document Scanning Services? We Can Help
If you need help scanning your student's documents, let Record Nations help you through the process. Additionally, we'll make the process as easy as possible.
Start the process by filling out the form, using the live chat button, or giving us a call at (866) 385-3706. Afterwards, you'll receive quotes from top professionals in your area, and you can choose the best one for you.