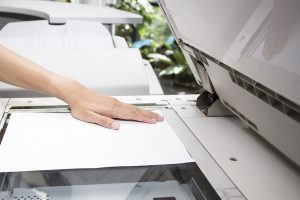 Digital formats increase efficiency, mobility, and reduce costs. Record Nations provides document scanning services to convert your records and make the transition to a paperless office. We can help you slowly transition over time or complete bulk projects to archive your entire library.
We offer a number of scanning solutions that will simplify the process and benefit your business. Digital documents offer quick access and secure files will serve your business with profitability and success.
What Are the Benefits to Going Digital
Reclaim Your Space
The rising costs of office space has forced businesses to find creative solutions to better utilize their space. Digital conversion allows you to reduce clutter and storage, opening up valuable areas for profit-generating activities.
Improve Workflow
Digital documents can be found, retrieved, and shared instantly. Your team will be able to collaborate more effectively and respond to customers without delay. 
Control Spending
Scanning documents costs just cents per page and reduces storage, printing, and mailing expenses. Record Nations will work with you to customize our services and create a conversion plan to meet your budgetary needs.
How Does Document Scanning Work?
1. Collection
Collect the documents you would like to convert and we will pick them up.
2. Transport
Our scanning providers will safely transport your documents to a secure facility.
3. Preparation
When your documents arrive, they will be inspected and processed to prepare for scanning.
4. Scanning
Each of your documents will be scanned on high-resolution scanning equipment to create clear digital files. Your files will be indexed, organized, and double-checked for quality control.
5. Completion
Once the scanning is complete, your files will be stored and delivered to you via secured cloud storage, an encrypted drive, or uploaded to an existing document management system. Your physical documents will be shredded, stored off-site, or returned to you.
Specialized Scanning Services
Here are some of the industries we can assist with our specialized scanning services.
Managing health records requires extra attention to privacy and security.  Our medical record imaging process is HIPAA and HITECH compliant. Electronic health records help maintain compliance and improve the quality and accuracy of patient care for healthcare providers.
Law firms and attorney's offices handle large volumes of paperwork that needs to organized and accessible at all times. Digital documents make it easy to locate critical records and protect confidential information.
Dental offices are also subject to HIPAA and HITECH regulations. Our scanning services convert patient records and x-rays to improve patient care and maintain compliance.
Large format documents are difficult to store, share, and access. Digitizing maps, blueprints, and drawings make them easier to work with and prevents damage.
Get Free Quotes on Scanning Services Near You
Record Nations has you covered with reliable document scanning services. Our high quality providers use state-of-the-art equipment to create clear digital images of your documents. You will enjoy the efficiency and ease of using digital files in every area of your business.
Give us a call at (866) 385-3706 or fill out the form to connect with scanning providers near you.