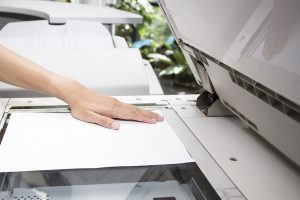 Digital formats increase efficiency, mobility, and reduce costs. Record Nations provides document scanning services to convert your records and make the transition to a paperless office. We can help you slowly transition over time, or archive all your records in one go.
We offer a number of scanning solutions that will simplify the process and benefit your business. Scanning and implementing a digital document system saves you money, and gives back time to your employees.
What Are the Benefits to Going Digital
Free Up Office Space and Let Your Employees Work From Anywhere
With the concept of what an office is evolving, digitizing your operations ensures you and your employees can work from anywhere, and at any time. Whether you're looking to make your office more efficient, or give your employees hybrid or remote capabilities, document scanning services enables you to respond to your employees' needs.
Improve Workflow
Digital documents can be found, retrieved, and shared instantly. Your team will be able to collaborate more effectively and respond to customers without delay. With customers expecting their needs to be met on increasingly shorter timelines, every minute and hour saved is crucial. 
Control Spending
Scanning documents costs just cents per page and reduces storage, printing, and mailing expenses. It also reduces the long term costs of paper storage and organization. Once those documents finish uploading to the cloud, they remain there for as long as you need them.
How Does Document Scanning Work?
1. Collection
Collect and organize the documents your business wants to digitize. The first step of organization takes time, but the scanning company will index the documents based on your organization.
2. Transport
If you select an off-site option, our providers will take your documents to their secure scanning location. If you choose an on-site option for legal or regulatory reasons, the provider will bring their scanners to you. Typically, an off-site service provides a more affordable option, but for some businesses, an on-site solution is necessary.
3. Preparation
When your documents arrive, they will be inspected and processed to prepare for scanning. During this process, anything that could impair the scan process gets removed. This includes paper clips, staples, or anything that would cause failed scans.
4. Scanning
Each of your documents will be scanned on high-resolution scanning equipment to create clear digital files. Your files will be indexed, organized, and double-checked for quality control.
5. Completion
Once the scanning is complete, your files will be stored and delivered to you via secured cloud storage, an encrypted drive, or uploaded to an existing document management system. Your physical documents will be shredded, stored off-site, or returned to you.
Specialized Scanning Services
Every scanning job is different. Every business has their own needs, and different industries require different procedures to comply with regulatory or legal requirements. Record Nations knows that, and our partner network can help, no matter what industry your business operates in.
Managing health records requires extra attention to privacy and security.  Our medical record imaging process is HIPAA and HITECH compliant. Electronic health records help maintain compliance and improve the quality and accuracy of patient care for healthcare providers.
Law firms and attorney's offices handle large volumes of paperwork that needs to be organized and accessible at all times. Digital documents make it easy to locate critical records and protect confidential information.
Dental offices are also subject to HIPAA and HITECH regulations. Our scanning services convert patient records and x-rays to improve patient care and maintain compliance.
Large format documents are difficult to store, share, and access. Digitizing maps, blueprints, and drawings make them easier to work with and prevents damage.
Get Free Quotes on Scanning Services Near You
Record Nations has you covered with reliable document scanning services. We've partnered with a range of businesses, from Fortune 500 companies to local doctor's offices. Give us a call at (866) 385-3706 or fill out the form on the page, and we'll connect you with a scanning provider that fits your unique needs within minutes.