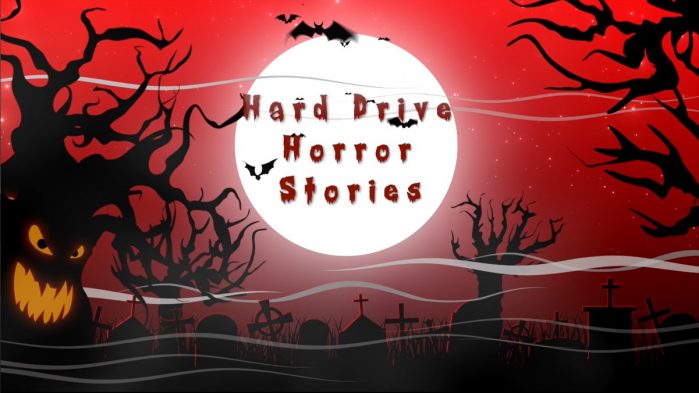 Halloween is indeed the spookiest time of year, but what's scarier than having a catastrophic hard drive failure? Whether it's damaged, lost, or stolen, there's seemingly no limit to the dangers this information may possess. In this two-part series we explore some of the Hard Drive Horror Stories that were shared with us by those who experienced them…Beware the horrors of data loss!
In this first installment, we'll meet three souls who've experienced just this sort of thing. The hope is to illustrate the many ways that hard drives can fail us, so we can hopefully avoid the same issues. In most cases, these disasters were out of the user's control, and just further show us why it's important to maintain secure backups.  Each and every person we spoke to was hopeful that their stories would inspire us to take appropriate measures to protect our data.
These Horror Stories are True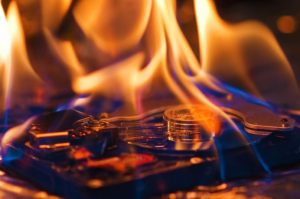 The first story is from Aseem Kishore, of helpdeskgeek.com. Aseem experienced a complete system crash during his last semester at college. For most of us, this seems like the stuff of nightmares, but it actually happened. The amount of work lost was almost irreplaceable and Aseem discusses the importance of backups, and cloud storage.
Our second story comes to us from Ludovic Chung Sao of zensoundproof.com. Ludovic was looking to enhance the speed of his computer. After consulting with one of the engineers from his company he decided to replace his hard drive with a much faster SSD. After a few moments, we'll just say that things ended in a "fiery" conclusion.
Our third and final story on this installment is from Thomas Jepsen of passionplans.com. This story may be the most alarming to some. After a late night with a friend in 2013, Thomas woke up to realize that he'd invested nearly $100,000 in Bitcoin. Instead of going into a panic, Thomas decided to download his Bitcoin onto a rarely used laptop and see where his investment would lead. An investment of that size would be in the millions of dollars today. But as you'll soon find out, spring cleaning can bring to light a fresh set of horrors all its own.
Record Nations has Solutions
Luckily all of our interviewees are able to tell their stories without too much discomfort. It's important to make sure that your data is safe and secure, and Record Nations has a number of ways to help make that happen. Whether you're looking to dispose of old electronics, or you need to find a secure backup system…We can help. Don't become a horror story yourself. Start the process by filling out the form, using the live chat button, or giving us a call at (866) 385-3706. Afterwards, you'll receive quotes from top professionals in your area, and you can choose the best option for your business or personal needs.