Medical records scanning, just like other types of scanning, is a great way to improve records management. In addition to saving space, you also get access to features that make organizing your medical records easier than ever.
Whether you need ongoing scanning services or just a one-time project to keep everything organized, medical records scanning can help. There are a few steps in the medical records scanning process and some things you should know to maximize efficiency.
1. Collect & Organize the Medical Records to be Scanned
The first step in the process is to collect all of the records you need to have scanned. In many ways, this step is the hardest because of the number of records that may be involved.
Nevertheless, it's important to label the boxes properly so you can still access any records you need during the process. This is also a great time to organize and label the boxes based on retention time to make sure you're HIPAA compliant.
One last thing to take care of as you prepare your records for scanning is to make sure you remove any staples, paper clips, or other fasteners.
How Much Will It Cost?
To make sure there are no surprises during the medical records scanning process, you can estimate how much the project will cost based on how many records you have.
On average, document scanning costs 7-12 cents per page scanned. As with other services, though, the actual price per page can shrink the larger the project gets. If you don't know how many pages you have, you can estimate that a file box contains around 2,700 single-sided pages.
2. Scanning
Once your medical records and collected and organized, it's time to have them scanned. Record Nations can help you find the scanning contractor that works best for you, based on your location and the number of medical records you need to have scanned.
3. Indexing & Adding the Records to Your EHR
Once the medical records are scanned, they can be converted for use with an Electronic Health Record System (EHR).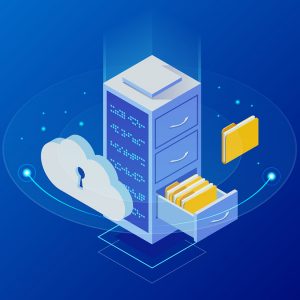 These systems are critical to the efficiency of a paperless office, and allow the secure and convenient management of patient charts.
As part of the EHR, many medical practices use specialized document management software called an Electronic Medical Records system (EMR). These systems come with a variety of features and can store many kinds of information about a patient.
Medical records scanning can help you easily integrate your existing paper records to work within both EMR and EHR systems.
4. Shredding Old Paper Copies
One of the most crucial steps in any scanning project is securely shredding the old paper records. Many scanning services offer shredding as a part of their service as a built-in security feature.
Many document storage services that handle document retention can also automatically shred your records for you once their retention times are up. This is why it's crucial to make sure they are properly organized at the beginning of the process.
After shredding is complete, you will also be provided with a Certificate of Destruction. This certificate details the when and where of your document shredding and can be used to prove compliance with applicable laws.
Need Medical Records Scanning?
Record Nations partners with secure and reliable scanning contractors across the United States. To let us help you find the best scanning service for your needs, fill out the form on the right or give us a call at (866) 385-3706 for a free no-obligation quote from service providers in your area.