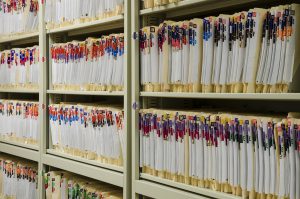 Record Nations Lakewood recognizes the challenges faced by medical providers to ensure confidentiality for their patients. We provide HIPAA-certified medical record scanning and medical record storage services to keep you in compliance and protect the personal health information of those in your care.
Our trusted services can assist you through the maintenance, processing, and retention of your medical files.
Preparing Medical Records for Scanning in Lakewood
Professional medical record scanning will prep, scan, and index your medical records to organize your documents and give you the ability to access patient files from an EHR system. The use of digital files will help you to coordinate care, integrate files from other practices, and decrease the need for data entry with e-forms.
Get your medical record scanning project started in 3 steps:
Contact us by calling (732) 369-5005 or filling out the form. Be sure to include the number of records you would like to scan and the level of detail you want for each file.
Within minutes, you will receive free price quotes from local scanning professionals.
Select the company that best fits your needs and together you can start your scanning project.
Medical Records Storage Services
Medical records storage is used in conjunction with medical record scanning to store physical files that you need to keep based on retention guidelines or as a backup for critical files. Our well-trained storage professionals will help you maintain compliance with high levels of security and careful handling of patient files. Minimize your storage costs while protecting your files from theft, loss, and natural disaster.
Medical Records Custodian
When a Lakewood healthcare facility closes, a custodian is appointed to manage the patient records. Each state has different rules and guidelines for how long a record needs to be stored.
Custodians of medical records can store physical copies in a secure storage facility or scan the documents and store them electronically using an EMR system. With either option, patient records must be readily available upon request. Failure to produce forms could result in fines or penalties.
Record Nations Lakewood can help you find a local provider to manage your records, release needed information, and destroy the records after the retention period.
Get Free, No-Obligation Quotes on Medical Record Scanning and Storage in Lakewood
If you need medical record scanning and storage services, please call us at (732) 369-5005 or fill out the form. Our experienced staff is standing by to answer your questions and connect you with Lakewood-based service providers. For more information on services for the medical industry, check out our articles section.
Record Nations Lakewood Location
Record Nations Lakewood
1001 Fischer Blvd
Toms River, NJ 08753
(732) 369-5005
lakewood@recordnations.com
Our normal operating hours are Monday-Friday from 9.00 AM to 6.00 PM, Saturday from 10:00 AM to 4:00 PM.

Record Nations proudly serves these cities throughout the Lakewood area:
Atlantic City | Brick | Camden | Cape May | Cherry Hill | Gloucester Township | Hamilton Township | Marlton | Medford | Millville | Moorestown | Newark | Pitman | Princeton | Toms River | Turnersville | Vineland | Voorhees Township | Washington Township | Willingboro Township