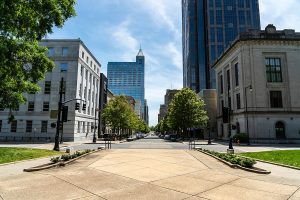 Private health information needs to be efficiently managed to keep your practice running smoothly. Our medical record scanning and medical record storage services help you to organize and track your files with ease.
We can scan all kinds of health information, including: patient charts, lab results, insurance information, and much more. We offer secure physical storage to maintain files that cannot be digitized or must be retained for backup. We follow all applicable privacy laws, including HIPAA and HITECH, to keep you protected.
Keep track of retention dates, process paperwork, and protect patient information with Record Nations Raleigh.
Preparing Medical Records for Scanning in Raleigh
Medical record scanning is the first step in transitioning to a paperless practice. We use advanced technology to create accurate digital files from your paper documents.
Your digital files will be indexed and organized to help you better manage your health information. We can also integrate your files into an Electronic Health Record System (EHR). You will be able to efficiently collaborate on patient care, track retention dates, and maintain compliance with medical record scanning services.
Medical record scanning is made easy with Record Nations:
Request free quotes from local scanning providers by calling (919) 229-8587 or filling out the form. We will ask for the number of records you would like to scan and the level of detail you want for each file.
Within minutes, several medical record scanning companies will contact you with competitive price options.
Select the company that best fits your needs and together you can start your scanning project.
Medical Records Storage Services
Accessibility and security are critical when considering medical record storage options. Record Nations Raleigh offers digital cloud storage and physical document storage to protect all of your information.
Our certified services will protect your files from loss, theft, and damages with advanced security features. We offer customized security levels and retrieval options whenever they are needed. Keep your files safe and available with medical record storage services.
Medical Records Custodian
Custodians of medical records can store physical copies in a secure storage facility or scan the documents and store them electronically using an EMR system. With either option, patient records must be readily available upon request. Failure to produce forms could result in fines or penalties.
North Carolina requires medical records to be stored for at least 11 years.
Using a medical custodian takes the liability off of you or your practice. Hiring a company to manage your facility's medical records ensures you will remain in compliance and your past patients will continue to receive care and support. 
Record Nations Raleigh can help you find a local provider to manage your records, release needed information and destroy the records after the retention period. 
Get Free, No-Obligation Quotes on Medical Record Scanning and Storage in Raleigh
Record Nations has worked with medical practices across the country to improve efficiency and protect private health information. Call us at (919) 229-8587 or fill out the form to learn more.
Check out more information on services for the medical industry in our articles section.
Record Nations Raleigh Location
Record Nations Raleigh
3434 Kildaire Farm Rd #135
Cary, NC 27518
(919) 229-8587
raleigh@shrednations.com
Our hours of operation are Monday-Friday 9:00am to 6:00pm and Saturday 10:00am to 3:00pm.

Record Nations proudly serves these cities throughout the Raleigh area:
Apex | Cary | Chapel Hill | Durham | Fayetteville | Greensboro | Kinston | Wake Forest | Wilmington | Wilson | Winston-Salem