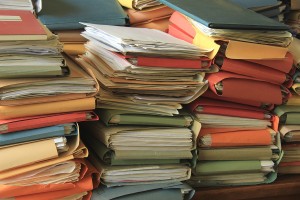 Although more and more companies are migrating towards cloud storage and digital documents, there's still a place in many offices for paper document storage.
We understand that you still use paper documents and keep track of files offline- it's not that uncommon to see dozens of file drawers in any office.
If you're not quite ready to digitize your office Record Nations offers several other options, including offsite records storage, where you can store your archival or all your documents in a climate-controlled, secure facility.
Offsite records storage offers several unique benefits- the most sensible of all being that you can take files that you need to retain, but don't access regularly and store them in a secure facility.
Your records are protected, and you can even hire a records management company that can retrieve the records whenever you need them.  This reduces the amount of files you have on hand, and the time it takes to find files you really do need.
If you want to learn more about the benefits of document storage, and some tips on which documents should be important for your business, this article's for you.  If you've done all your homework and are ready to get started, our experts can help.
Fill out the form to the right, or give us a call at (866) 385-3706, and we'll contact you immediately!
Tips for Record Storage- What do I keep? What can I toss?
Even though there are a lot of advantages to scanning your documents we understand that it might be cost-prohibitive or just plain difficult to completely digitize your office.  For lots of companies and industries, it's very important (or required) to keep the original hard copies of certain documents sort-term or for a set amount of time for your business and the record keeping requirements for your industry. If you don't know, you could open yourself up to legal or ethical issues.
Here's a short list of documents we know of that would require a hard-copy file on hand for personal or business reasons.  Please keep in mind that this list is not 100% inclusive or exclusive- there are restrictions, regulations and requirements that vary from industry to industry and business to business.  We also have a comprehensive list with time frames here.
Documents That Should Be Kept Permanently
Keep annual tax returns permanently. This is important in the event of an audit. Although most audits will occur within seven years, they may also occur at anytime after that if the IRS feels that a fraudulent return has ever been filed.
Certificates of stocks and bonds should be kept in a safe deposit box.
Keep health records in a safe location.
Keep any records of powers of attorney or wills. There are typically several copies of wills, one should be kept in a safe deposit box and another in a safe location within the home.
Family birth certificates should be kept in a safe place, such as a safe deposit box. Adoption and custody records should also be kept on a permanent basis.
Copies of death certificates should be kept in the home or in a safe deposit box.
Documents That Should be Kept on a Temporary Basis
Keep paycheck stubs for one year, up until W-2 forms or 1099 forms are received. The paycheck stubs should then be used to verify that the 1099 or W-2 forms are correct.
For tax purposes, store W-2 forms or 1099s for seven years.
Bills for the home should be kept for one year. Bills that are for businesses or business related activities should be kept for seven years for tax purposes.
All mortgage statements must be stored for up to one year.
Statements from mutual funds must be kept until the end of the year when they can be verified and reconciled.
Bank statements and credit card statements should be kept for one year. Care must be taken with credit card statements as they are a leading source of identity theft. Keep in mind that credit card information is also available from the issuer of the card.
Tax-deductible expense receipts should be kept for seven years. If there is a canceled check, this must also be kept for that length of time.
Documents That May be Destroyed
Shred receipts to daily purchases that are not tax-deductible.
Warranties that have expired may be thrown away.
Paperwork, such as instructions and manuals to items that a person no longer uses or owns may also be thrown away.
Throw out any magazines that are older than six months. The same goes for newspapers.
Verified ATM slips, bank-deposit slips and credit card receipts must be shredded.
Get Free, No-Hassle Quotes on Document Storage Today!
From Document Scanning to Document Storage, our experts will help you select a customized Document Management Solution that fits exactly what you're looking to do for your company.
We have locations all across the United States to serve you document storage needs. Fill out the form to the right, or give us a call at (866) 385-3706.  Within minutes of receiving your request, you will have free quotes from experts in your area that can help you.