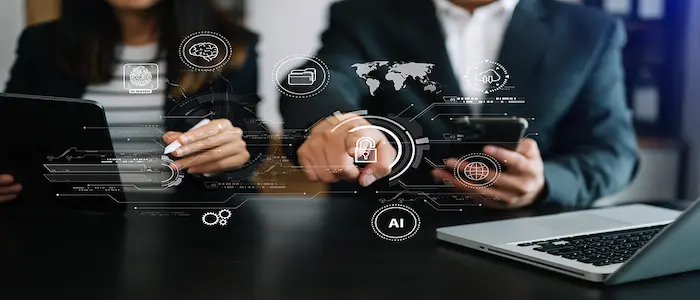 With the average cost of a data breach rising to $4.45 million dollars in 2023, and their frequency of occurrence growing, it's important to know what your response will be.
Unfortunately for companies, planning for a data breach is now more of a when than if question. In 2021, 45% of companies reported experiencing a data breach, and the methods being used to attack companies continue to grow in sophistication.
When a breach occurs, no matter the severity, a data breach response plan can make a substantial difference when it comes to down time, cost, and the reputational damage that comes following its exposure.
The Importance of a Data Breach Response Plan
On May 6th, 2021, workers at Colonial Pipeline arrived to work to find out that their computers were as useful as bricks, and one of the most important conduits for energy in the United States was effectively turned off.
A day later, the company paid the hacking group $4.4 million dollars to unlock the software, but were unable to return the pipeline online for several days, leading to gas shortages across the southeast and a significant blow to the company's reputation.
While a data breach for most companies won't cause a regional energy crisis, they can still cause significant damage in the short and long term. Individual hackers or groups can lock employees out of their computers and steal troves of sensitive and valuable data in just minutes after gaining access to a company's network.
Building out an effective data breach response plan helps to minimize this damage, as employees and the team in charge will be able to react immediately in a situation where every minute and hour matters.
The 3 Main Sections of a Data Breach Response Plan
When building out your plan, it's typically best to break it out into three distinct sections. The first section determines responsibilities and roles and assesses where the risks and vulnerabilities of your company lie.
The second section in the plan is an ongoing one, with constant detection and monitoring practices, along with active steps to prevent a data breach.
The final section in the plan deals with how your company responds when a data breach is detected. This involves the isolation of the threat, clearing it from the system, informing the relevant customers and clients, and contacting regulatory and investigative agencies.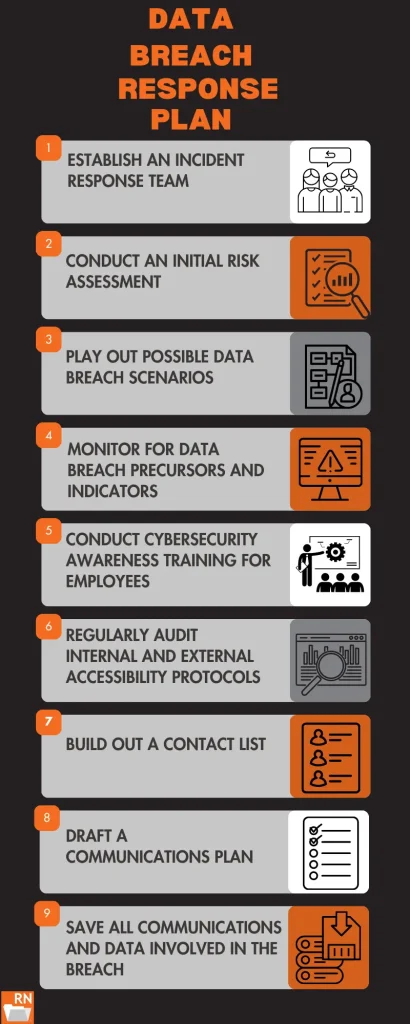 Pre-Planning
Establish an Incident Response Team
The team should have parts from across the company. Senior stakeholders, the IT and cybersecurity departments, along with HR and communications/marketing should all have a role in the process, as a data breach does not just affect an isolated part of the business.
Conduct an Initial Risk Assessment
This should include an overview of your general cybersecurity practices, what vendors have access to your network, accessibility protocols within the company, and what encryption and cybersecurity softwares you're currently running.
Play Out Possible Data Breach Scenarios Based On Your Risk Assessment
Every company will have different vulnerabilities, and it's important to be clear-eyed when examining your own. Running practice scenarios based on your weaknesses can help prepare your company for a situation where one of them was exploited.
Detection and Prevention
Monitor for Data Breach Precursors and Indicators
NIST breaks down signs of data breaches into two types, precursors and indicators. Precursors indicate that an attack is on the way, or could occur in the near future. This tends to involve searches or testing of your network for weaknesses, but can sometimes include an announcement that your company is a target from a hacking group.
An indicator, on the other hand, means that your organization is under attack. Common signs of this include numerous suspicious login attempts from remote systems, internal emails with suspicious content, or direct attacks against a database server.
Conduct Cybersecurity Awareness Training for Employees
A significant number of data breaches come about from employees making mistakes. This comes in the form of phishing, password compromise, or other lapses in security.
Regularly Audit Internal and External Accessibility Protocols
Accessibility is key when it comes to limiting the impact of data breaches, particularly when it comes to third party vendors. Since many third party vendors connect directly into your network, these are natural weak points that attackers will attempt to exploit. Limiting their access into your broader network helps to limit the scale of the breach in the case that one of them becomes compromised.
Incident Response and Recovery
Build Out a Contact List
This will look different for every organization, but it generally involves clients, customers, regulatory bodies, and third party vendors. For example, companies involved in the medical field will need to be aware of who they need to contact based on HIPAA requirements surrounding data breaches.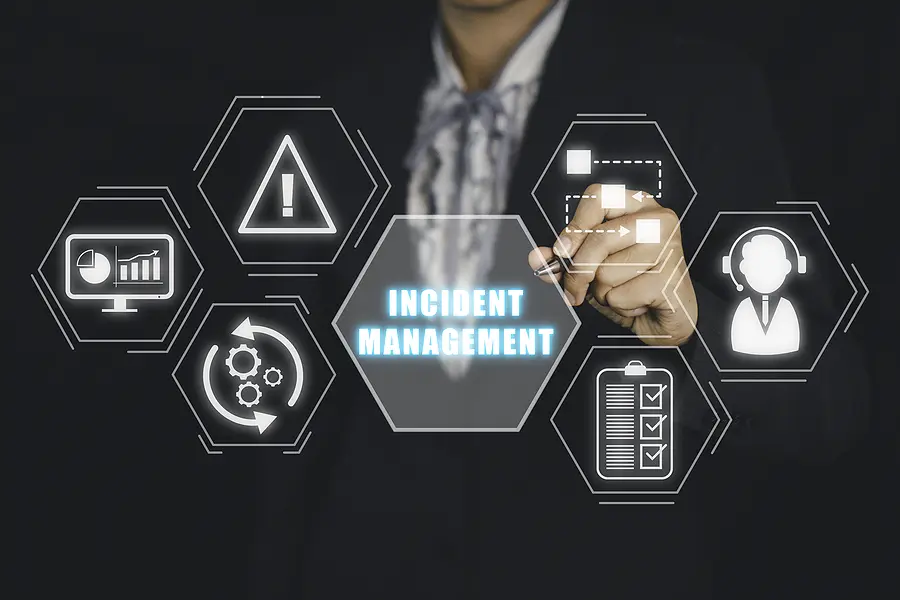 Knowing who to contact, and when to do it, following the discovery of a data breach helps to shorten downtime and ensure your customers, clients, and stakeholders keep their trust in your company.
Draft a Communications Plan
In addition to having a plan on who to contact, it's vital to know what to say to them, both for legal and relationship purposes. A communications plan, even if it's just a broad outline, will help your public relations and marketing teams be proactive, rather than reactive, when discussing a data breach and its implications.
Save All Communications and Data Involved in The Breach
For investigations, regulatory purposes, and recovery, saving any communications and data involved is vital. They will allow you to fully comply with regulatory requirements, fully inform your customers and stakeholders of what was affected, and help you in your future prevention planning.
Protect Your Data with Record Nations
Record Nations partners with cloud storage and document management providers across the country to provide businesses with secure industry specific software that can help digitize and scale their business. Give us a call at (866) 385-3706, or fill out the form on the page, and we'll connect you with a data storage solution that works for your business.