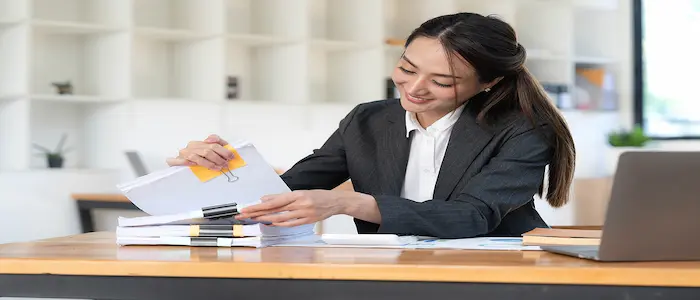 Document retention refers to the practice of storing, maintaining, and archiving records over a period of time. Retained records will include administrative paperwork, financial information, client forms, staff documentation, and confidential data from your organization. Some organizations may set their own retention policies, while others may carry a legal and regulatory retention requirement. Regardless of whether it's carried out in house or with consultants, maintaining a document retention and destruction policy is important for businesses of any size.
Destroying records too soon can cause legal complications while retaining records too long can lead to disorganization. Your document retention and destruction policy should indicate your specific legal requirements and dictate the duration of storage for each record. An efficient policy provides uniform rules to keep your business organized and legally compliant.
What Documents Should Be Part of a Document Retention and Destruction Policy?
Depending on your industry, the records you store will vary. However, all sectors should cover storage for the following records:
Employee records
Customer records
Customer/client correspondence
General documents
Spreadsheets
Electronic communications
Invoices, billing, and sales information
Your document retention and destruction policy should establish a retention period for each kind of record and cover all kinds of data. Retention periods will depend on the legal requirements, document importance, and the long-term impact in the organizational setting. Destruction policies should include shredding or other means of permanent, verifiable destruction.
Regardless of exact retention periods, all businesses should prioritize record organization, protection, and accessibility throughout handling and storage. A document management system (DMS) paired with an effective retention and destruction policy will ensure that your records are handled properly.
Why Is Implementing a Document Retention and Destruction Policy Important?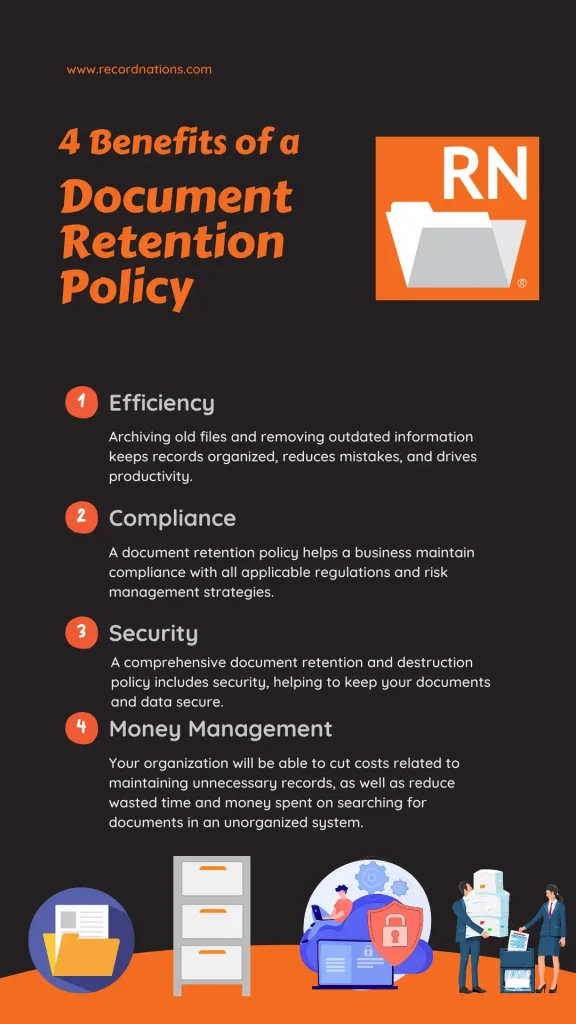 Implementing a retention and destruction policy provides everyone in your organization with uniform guidelines for internal processing and documentation. It will identify and categorize confidential information by how and where documents are stored and the required retention period. By implementing a policy, your business will improve in:
Efficiency
Archiving old files and removing outdated information keeps records organized, reduces mistakes, and drives productivity. A document retention policy within a comprehensive document management process will detail how to organize documents for storage, retrieval, and record keeping. This will make accessing your information easier and more efficient. The policy should also flag the expiration date and detail destruction methods.
Compliance
Failure to comply with privacy laws can result in huge penalties and legal issues. Company policies should support applicable legal regulations to minimize risk and maintain compliance at all times.
Security
A comprehensive policy includes security measures for digital and physical records. Access restrictions may be required to comply with laws like HIPAA and GLBA. Destruction should include secure shredding for documents and hard drives. Professional services are recommended to document the chain of custody and provide a certificate of destruction.
Money Management
Your organization will be able to cut costs related to maintaining unnecessary records, as well as reduce wasted time and money spent on searching for documents in an unorganized system.
What Does a Successful Document Retention and Destruction Policy Look Like?
A successful retention and destruction policy protects your business and customers while providing a smooth workflow for your day-to-day needs. A reliable system should allow for the following features:
Customized security: Document access should be tailored on a need-to-know basis, allowing access to designated individuals only.
Quick retrieval: Designated individuals should be able to immediately locate data in a centralized storage system and have the ability to edit and share as needed.
Built-in automation: Automatic tracking and maintenance for your records saves time and money.
Protect Your Records with Record Nations Today
Record storage and DMS services will help you organize and track retention periods for your documents. Record Nations partners with record retention experts across the country to support businesses of all kinds. Give us a call at (866) 385-3706 or fill out the form to connect with providers near you. We will help you select affordable services and send you free quotes within minutes.