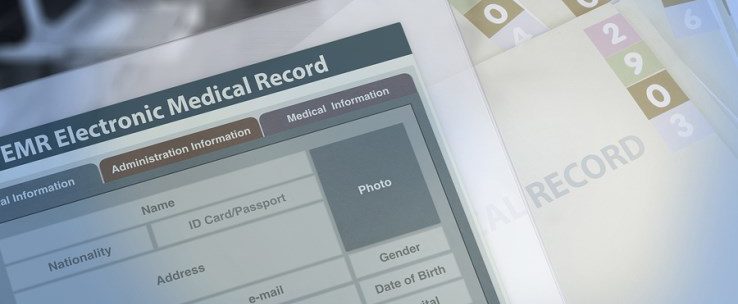 Your patient's records contain highly sensitive information that must be handled with care. Dealing with paper records is clumsy and messy—which is why EHRs and EMRs are the new standards.
Learn more in this video or the transcript below about the benefits of scanning your dental records, including how it will improve efficiency, reduce costs, and increase security at your practice.
Video Transcript
Why Go Paperless?
Patient charts and other documents are among the most important parts of a dental practice, making it important to ensure you're using the most efficient system possible for managing them.
As technology advances, it's becoming more common to scan dental records and adopt an electronic system for storing files, as it offers a range of advantages including:
Lower cost

Greater efficiency and productivity

Safeguards for physical and malicious threats
Cost Benefits
Going paperless helps to reduce or altogether eliminate many of the indirect costs that come with hard-copy dental records.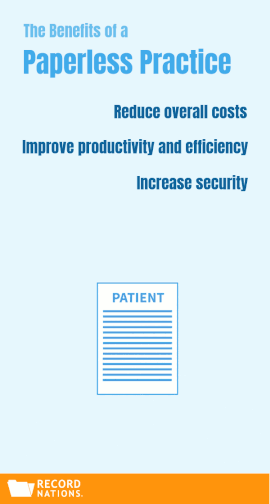 Save Your Valuable Real Estate
By scanning dental records and adopting a paperless practice you're able to clear out all the space previously used for hard-copies—as a result opening up new space for more productive purposes like extra patient chairs.
Cut Back on Labor Costs
Another advantage of digital files is the time they save, and as the saying goes, time is money.
By imaging patient charts, time previously spent looking for files can be used for more productive purposes instead.
Minimize Supply Costs
There are a range of everyday supply costs that a paperless dental practice can eliminate or reduce, including:
Stationary

Printer ink

Office supplies (staples, bindings, etc.)

File cabinets & other office furniture
Productivity Benefits
Paperless dental practices streamline many of the time-consuming tasks that come with hard copies such as filing patient charts and tracking down ones that are misfiled or lost.
Fast Access to Files
Employees searching for files for 15 minutes a day may seem insignificant, but that time—and labor costs that go with it—will begin to add up.
With electronic document management systems though users are able to search for dental records by keyword and when using files, they don't need to remove or replace them from their storage place—in turn helping to improve time bottlenecks and allowing multiple people to use a chart at the same time.
Never Misplace Records
Losing track of patient charts can lead to issues ranging from time wasted to potential legal risks.
With electronic files on the other hand patient records can be accessed without needing to remove them from their location—eliminating the chance for it to be misfiled or misplaced.
Security Benefits
Using electronic dental records provides dual benefits with protections from both environmental damages as well as theft and misuse.
Simple Data Backup
With electronic records, it's easy to backup data to an offsite location.
When you're able to always have a secure second copy for a fallback, it creates an insurance policy against damage like fire or flood.
System Security Features
EHR systems used to manage electronic dental records implement multiple safeguards to protect files from potential theft and misuse.
For example, tiered access controls can limit access to sensitive information internally while an encryption system can protect from external threats.
Ready to Take Your Practice Paperless?
Record Nations partners with document scanning service providers across North America. Find a quick and reliable solution for your record scanning needs with free quotes from several local providers.
Call us at (866) 385-3706 or fill out our form to be connected to professional record scanners near you today.