Looking to upgrade the way you store your files?
The more files you accumulate in your office, the less room you have available that is actively used for work. Meanwhile, filing cabinets with rarely used documents clutter your working space.
There are two alternatives available for you to make your document storage efficient: store your physical files at a secure offsite storage facility or scan your files and store them in cloud storage.
Which Document Storage System Fits Your Business?
There are several things to consider when upgrading to a new document storage system. The types of documents you need stored, the amount of accessibility you require, and your budget will all be determining factors in which storage option best suits your business.
Offsite storage is an affordable, easy-to-implement service that gives you access to your files when you request them with file delivery services. While offsite storage is a secure way to store physical files, the trouble comes if you need immediate access to any papers. Due to the nature of their service, retrieving your files can take a few days. And if you need your papers in-hand continuously, this may not be a viable option.
Digital storage is the method of file storage that leverages the internet to give you access to your files instantly and anywhere there is an internet connection. You can collaborate with your team in real-time with cloud storage capabilities and your files won't take up any room in your office.
These two types of storage can be merged. You can store records that you aren't going to need access to and scan records that you will need. For example, records that are near their expiration date are less likely to be needed, so they can simply be stored (and eventually shredded) until their time is up. Scanning files requires some time and resources, so you'll want to just scan the records that you still need access to.
You will need to weigh your options for storage based on the type of records, access you need and the cost of the different kinds of storage available. A combination is likely the best option.
The infographic below compares offsite storage to digital file conversion.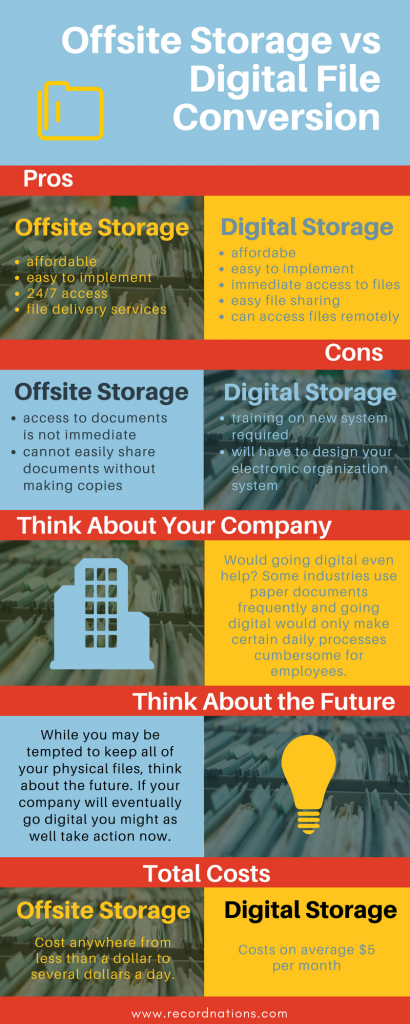 Depending on your individual needs, you can use the factors outlined above to make an informed decision on how your company should go about storing your documents.
Find a Records Storage Solution for Your Files
Record Nations is the leading authority in connecting customers looking for a document storage solution with reputable storage providers all across the country. Our network of storage services educate you on the best way to store your documents and do so with competitive rates.
To get free quotes in just minutes, fill out the form on the right or give us a call at (866) 385-3706.