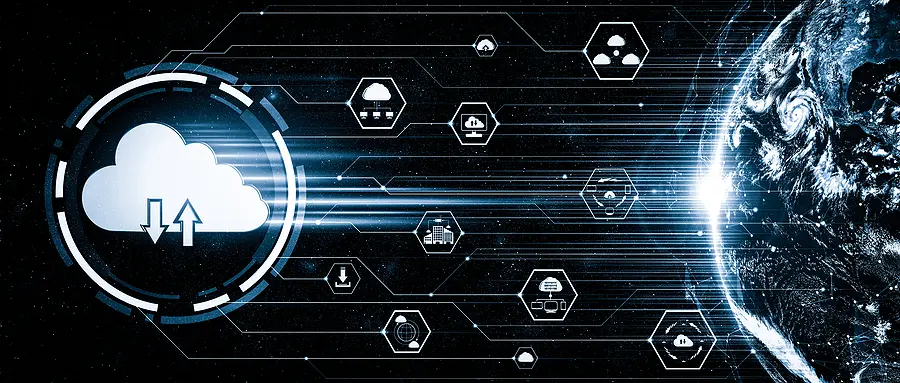 Cloud storage is a data storing system that allows you to save, manage, and maintain files in a centralized system, off-site or on local servers. Your data is stored on private servers or by a cloud computing provider that maintains the servers, infrastructure, and network for you. You are able to access your data at any time with virtually unlimited scale and elastic capacity. While all types of cloud storage operate under these frameworks, their specific capabilities and advantages differ.
Small businesses, large organizations, and individuals can all benefit from cloud storage. It provides increased security with backup data, encryption, permissions, and access controls.
How Does Cloud Storage Work?
Cloud storage works as a virtual data center. The user connects to a data server via the internet and sends documents, photos, videos, and other files to be stored virtually. The data server forwards the message to multiple servers to ensure the constant availability of your data. That way, if one server fails, you can access your data elsewhere.
You can connect to the storage cloud through the internet or a dedicated private connection. Cloud storage is quick and easy to implement and expand, making it an ideal choice for modern storage.
Types of Cloud Storage
Cloud storage allows you to store and operate complex data and run different applications. The benefits of choosing cloud storage are clear, but choosing the one that works for you among the different types of cloud storage depends on your needs as an individual or business.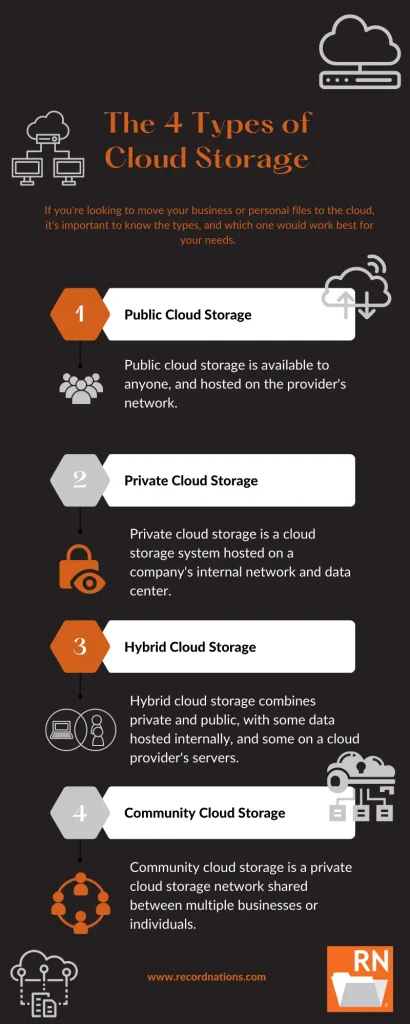 Public Cloud
Public cloud storage is available to anyone who wants to use or purchase the service. It is offered for free or sold as a subscription-based service. Public clouds offer storage, development platforms, applications, and other IT resources presented by third-party providers. It's likely that you already use the public cloud. Apple's iCloud, Microsoft's OneDrive, and Google Drive all run as public clouds. While largely free for individuals, businesses typically require more space, and that extra space almost always costs money.
Pros of Public Cloud Storage:
Public clouds encourage collaboration by offering scalability and flexibility. The benefits include:
Easy setup – Installation is quick and easy.
Accessibility – Data is accessible from any device, anywhere.
Scalability – Public clouds have near unlimited scalability and offer flexible performance-level options.
No maintenance – The provider maintains and administers the platform for you.
Cost-effective – The shared model significantly reduces costs.
Business continuity – Public clouds assure 99% uptime to prevent losses due to an outage or natural disaster.
Cons of Public Cloud Storage:
Public clouds require different security considerations because they are public. The challenges include:
Limited control – Cybersecurity and configuration are managed by the provider, giving you less control over security.
Potential threats – Public clouds are visible from anywhere on the internet making them frequent targets of cyberattack.
Compliance issues – Public clouds may not meet your specific legal requirements.
Latency – Occasional delays occur depending on the amount of traffic moving to and from the cloud.
Best Uses:
Public clouds work best for businesses and individuals that need to quickly and affordably set up centralized data. The public cloud is a great safety net in case of software failures and cyberattacks. Users are able to access data from multiple devices to work and share files.
Private Cloud
Private cloud storage is a cloud computing service hosted within a company's own data center. The service is managed by internal resources and is only accessible to the personnel of a single organization.
Pros of the Private Cloud Storage:
Private clouds have quickly emerged as the most secure cloud model with many other advantages. The benefits include:
High security – Private clouds offer an additional layer of security because they can be operated in an isolated environment.
Complete control – Your organization can build the cloud to its exact needs. You can also closely oversee and monitor your data because the servers are on-premises.
Better performance – The workload performance will never be affected by another organization on a shared server. There is less competition for capacity, improving performance.
Better compatibility – Reduced latency comes from synced applications across private cloud storage. You'll be able to communicate better between clouds, enhancing compatibility.
Cons of the Private Cloud Storage:
Private clouds are entirely managed and maintained by your organization. The challenges include:
Higher costs – Hardware expenses, maintenance, software licenses, and IT expenses make private systems more expensive.
Difficult setup – Deployment of a private cloud can be time and labor-intensive. Continuous maintenance and in-house IT support are also required.
Limited scalability – Private clouds are not as scalable as public clouds. More network resources and infrastructure may be required to scale capacity.
Limited access – Remote and external access may be difficult because of strict security measures.
Best Uses:
Private cloud storage is best for large companies that manage confidential data. Banks, financial institutions, and healthcare organizations may prefer private clouds due to compliance-related concerns. Your business will need to have the budget and capabilities to manage the needed infrastructure for private storage.
Hybrid Cloud
Hybrid cloud storage is a combination of private and public cloud solutions. It uses both off-site and on-premises resources, offering the best of both worlds.
Pros of Hybrid Cloud Storage:
Hybrid clouds offer the affordability of a public cloud with the security of a private cloud. The benefits include:
Flexibility – Users are able to direct data to private or public cloud environments quickly and move data between the two as needed.
Accessibility – Remote workers can easily access data from multiple devices and locations outside of the office.
Scalability – Storage capacity will seamlessly increase as computing demands spike.
Innovation – Companies can develop new applications and run better analytics programs that would otherwise be too expensive for small companies using on-site servers.
Cons of Hybrid Cloud Storage:
Combining public and private cloud storage solutions can be complicated. The challenges include:
Compatibility issues – Files may not be compatible between the public and private cloud.
Operating issues – Decreased visibility and multiple data locations can cause organizational and access issues for users.
Security threats – Your data is at an increased risk of a cyberattack over the public internet.
Best Uses:
Hybrid cloud storage is an excellent option for disaster recovery planning and data archiving. Private cloud storage is used for primary data storage and public storage is used for backup copies and infrequently accessed files.
Community Cloud
Community cloud storage is a private cloud architecture built for multiple organizations. The companies share access to the cloud, but the network is not visible to the general public.
Pros of Community Cloud Storage:
A community cloud offers high security in a collaborative environment. The benefits include:
Privacy – Community clouds are more secure and less at-risk than public clouds.
Customizable – Community clouds can be built to the needs of the community or industry it's meant to serve. This makes it easier to meet compliance requirements.
Affordable – Operation and maintenance costs are divided between users, making the community cloud more cost-effective than private storage.
Cons of Community Cloud Storage:
Building a private system for multiple companies comes with limitations. The challenges include:
Security concerns – Sharing data and resources with multiple participants creates an accessibility threat and security concerns.
Performance issues – Storage capacities and bandwidth are limited and shared between many users.
Not universal – Unlike other cloud options, community clouds are only suitable for specific sectors and situations.
Best Uses:
Community cloud storage works great for certain industries. Finance, government, healthcare, research, and education can benefit the most. These industries face strict privacy restrictions but also require a way to share information, collaborate, and ask questions.
Why Use Cloud Storage?
Cloud storage is an excellent data storage option for homes and businesses. The bonus of having a few types of cloud storage to choose from is choice. All options protect your data, provide flexibility, and improve performance. Carefully consider your security requirements, access needs, and budget to find the option that will work best for you.
Find a Cloud Storage Solution with Record Nations
Record Nations partners with partners around the country who provide all types of cloud storage. Our skilled computing companies offer data backup solutions and easy-to-use digital platforms that keep your data secure and accessible at all times. Get started by calling us at (866) 385-3706 or filling out the form on the page. We will match you with cloud storage providers that fit your needs and send you free quotes within minutes.