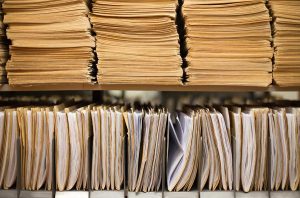 Document management is the process of tracking, maintaining, and storing business information. All businesses must manage their information to ensure they are following regulations and keeping up with paperwork. Our document services and management will help you navigate through your information and create a foundation for productivity in the workplace.
Record Nations Buffalo has a comprehensive line of services that can guide you through each step in the document management process. We can begin by suggesting services based on your industry and build a customized management system from there. Call us at (716) 402-5322 or fill out the form to speak with a representative today. They can help you select services that would best benefit your company and connect you with providers near you.
Records Storage & Document Management Services in Buffalo
Frustration is caused by unorganized information that is difficult to sift through. When your documents are easy to find, your team can get to work without wasting time and losing motivation. Well-managed files help your team succeed by increasing productivity and efficiency. Get organized with record storage and document management services from Record Nations Buffalo.
Here is more information on our popular services:
Transition to a digital office with document scanning services. We create accurate images of your physical files that can be indexed, tagged, and integrated with the document management system of your choice.
Offsite storage moves your bulky files out of the office and into our protected facilities. We safeguard your information from theft and damage with constant monitoring, climate control, and fire and flood protection.
DMS software optimizes your workflow and increases productivity. You will enjoy having a structured system to access, maintain, and store your digital documents.
Digital storage is available through our cloud services. We offer customizable security, automatic backup, and encryption features that protect your information and restrict unauthorized use of your files.
Get Free, No Hassle Quotes on Record Storage & Document Management in Buffalo
Information protection and organization are priorities at Record Nations Buffalo. We are committed to offering services that will keep you in compliance with privacy laws and increase efficiency for document management. Call us at (716) 402-5322 or fill out the form to request.
Record Nations Buffalo Location
Record Nations Buffalo
265 Franklin St
Buffalo, NY 14202
(716) 402-5322
buffalo@recordnations.com
Our normal operating hours are Monday-Friday from 8:00am – 4:30pm.
Record Nations also proudly offers our shredding services to the following cities throughout the greater Buffalo area:
Annapolis | Arbutus | Bel Air | Brooklyn Park | Calverton | Catonsville | Columbia | Dundalk | Ellicott City | Essex | Glen Burnie | Lochearn | Overlea | Parkville | Randallstown | Rosedale | Towson | Woodlawn