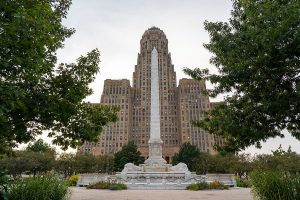 When looking for medical record scanning and medical record storage services, you will want to find a provider that follows privacy regulations to protect the personal health information (PHI) contained in your files.
Record Nations Buffalo takes the stress out of finding a quality provider by instantly matching you with pre-screened and certified record management companies. All of our partnering providers follow HIPAA and HITECH regulations to maintain your confidentiality. They have also proven to provide high-quality services and consistent results.
Medical record scanning creates accurate images of your files to reformat your documents digitally. Medical record storage allows you to move your files out of the office and store them securely offsite. Together, the services will help you reduce costs and increase productivity with organized files and uncluttered space.
Preparing Medical Records for Scanning in Buffalo
Medical record scanning is completed with a professionally trained team of experts that use industrial-grade scanning equipment. They can scan large amounts of files quickly and accurately.
Digital files can be used with an Electronic Health Record System (EHR). An EHR organizes your information, enabling you to easily share information between providers and make decisions quickly. Together, your newly digital files and an EHR will help you meet the meaningful use requirement under HITECH regulations.
Counting your documents is a great way to prepare for your scanning project. Knowing how many files you will be scanning allows your provider to plan for your project and give you an accurate price quote. Learn how to count your documents here.
When you are set to begin, follow these 3 easy steps:
Call us at (716) 402-5322 or fill out the form to request free quotes from Buffalo-based providers. Give us the approximate number of records you would like to scan and the level of detail you want for each file.
Within minutes, several medical record scanning companies will contact you with competitive price options.
Select the company that best fits your needs and together you can start your scanning project.
Medical Records Storage Services
Going digital saves you money by reducing the amount of physical storage you will need for your files. However, some documents will still need to be retained as back up or for legal purposes. Medical record storage is available to keep these files safe while not in active use.
Our secure facilities are protected with 24/7 monitoring, customized security levels, and disaster protection. You will have control over your documents and be able to retrieve files as necessary.
Cloud storage is also available in addition to physical storage. We want to make sure all of your medical record storage needs are met.
Medical Records Custodian 
When a healthcare facility closes, a  custodian should be hired to manage the patient records. New York requires records to be stored for at least 6 years. 
Custodians of medical records can store physical copies in a secure storage facility or scan the documents and store them electronically using an EMR system. With either option, patient records must be readily available upon request. Failure to produce forms could result in fines or penalties.
Record Nations Buffalo can help you find a local provider to manage your records, release needed information and destroy the records after the retention period.
Get Free, No-Obligation Quotes on Medical Record Scanning and Storage in Buffalo
Record Nations Buffalo has a vast network of reliable medical record scanning and storage providers in Buffalo and the surrounding areas. Call us at (716) 402-5322 or fill out the form to request free quotes on services near you.
Check out more information on services for the medical industry in our articles section.
Record Nations Buffalo Location
Record Nations Buffalo
265 Franklin St
Buffalo, NY 14202
(716) 402-5322
buffalo@recordnations.com
Our normal operating hours are Monday-Friday from 8:00am – 4:30pm.
Record Nations also proudly offers our shredding services to the following cities throughout the greater Buffalo area:
Annapolis | Arbutus | Bel Air | Brooklyn Park | Calverton | Catonsville | Columbia | Dundalk | Ellicott City | Essex | Glen Burnie | Lochearn | Overlea | Parkville | Randallstown | Rosedale | Towson | Woodlawn