The proper storage of your documents is crucial to your businesses privacy and reputation. Record Nations Culver City offers physical document storage, cloud storage and document management system software.
We collaborate with some of Culver Cities most experienced professionals to ensure that you are safe and they will complete any storing project quickly and efficiently.
Physical Document Storage in Culver City
Storing your inactive, personal, and confidential documents just got easier with our Culver City storage facilities. These facilities are climate-controlled, large enough to hold any size of files, secure, and accessible for you. The climate-controlled temperatures will keep your documents in tip-top shape and free from fires harm.
Our facilities can hold decades worth of inactive documents and keep them secure from landing in the wrong hands. Even though the documents are inactive, we understand that things happen and you may need to refer to these documents. Our facilities can give you complete access so you may retrieve your documents at your convenience.
Cloud storage will give your company the opportunity to access and share any type of data quickly, easily and securely. All data is backed up regularly via an internet connection rather than a physical hard drive or tape backup, and remote access is just an internet-ready device away.
The cloud is secure in many ways but what mainly sets it apart from other services is that all stored date is encrypted before it is even sent and stored. It's a critical way to ensure you have backup of all your files and gives you instant access no matter where you may need it.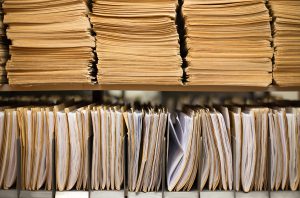 Transitioning to a document management system from a traditional filing system will improve your businesses production by offering fast retrieval, remote access, version control, office space, and increase security.
Finding physical documents can take anywhere from minutes to hours, DMS makes all your documents easy to find with a simple keyword search. The documents can be viewed, edited, and shared with the authorized persons you choose within the company, no matter where you or an employee is working they can be accessed through the secure remote access.
DMS can also track every change that has been made to any document, if changes have been made that you don't approve of, you can easily revert it to its original state.
Free up storage space around your office by converting to DMS, the digital management system will also keep you safe from any in-office intruders, preventing them from stealing anything confidential or informational documents.
Find out which storage system best fits your company's requirements. Our experts will guide you through the process from choosing the system to deciding what fields need to be indexed and searchable.
Get Free Quotes on Document Storage in Culver City and California Today!
Fill out the form or give us a call at (310) 361-2321, within minutes you will have your free quotes from Culver City experts that can help.
Record Nations Culver City Location
Record Nations Culver City
11717 Pico Blvd
Los Angeles, CA 90064
(310) 361-2321
culver-city@recordnations.com
Record Nations proudly serves these cities throughout the Culver City area:
Alondra Park | Beverly Hills | Brentwood | Burbank | Calabasas | | Del Aire | El Segundo | Florence-Graham | Gardena | Hawthorne | Hermosa Beach | Hidden Hills | Inglewood | Ladera Heights | Lawndale | Lennox | Los Angeles | Manhattan Beach | Marina del Rey | Ocean Park | Redondo Beach | Santa Monica | View Park-Windsor Hills | West Athens | West Compton | West Hollywood | Willowbrook