Record Nations Farmington
770 Market St
Farmington, MO 63640
(573) 621-3176
farmington@recordnations.com

GOOGLE REVIEWS
Hours:
M-F 8:00-6:00
Sat 10:00-2:00
Sun closed
Document Management in Farmington
Document management is a common difficulty for businesses of all sizes. Maintaining large amounts of information can be time consuming, frustrating, and sloppy without the right tools. Records Nations Farmington offers creative solutions to help you better manage your information and maintain regular maintenance for your records. 
We can help you with secure storage options, digital conversion, software-based organizational systems, and much more. Our services will give you more control, while also automating steps in the management process. You will be able to access the files you need, regulate the flow of information, and increase productivity for your company. 
Give us a call at (573) 621-3176 or fill out the form to begin services today. Our local providers will contact you with competitive price quotes and service information. We are excited to work with the community of Farmington and provide high-quality document management services.
Secure Document Scanning and Storage in Farmington
Farmington Document Scanning Services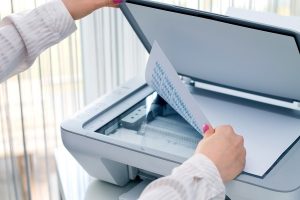 Converting to a paperless office is not always an easy transition. The benefits of going paperless are plenty, but the process can be daunting. Professional scanning services make the process easier, while saving you time and money.  
Farmington Document Storage Services
Offsite document storage provides a safe location to store your files that are not in active use. We have top-of-line storage facilities that will protect your records from loss, theft, and damages. Features like climate control, disaster protection, and 24/7 monitoring are included in our affordable offsite storage solutions.
Farmington Document Destruction Services
Shredding and hard drive destruction services protect your information from being accessed, stolen, and misused. We use effective techniques to destroy physical documents, hard drives, and other media containing your digital files. Hard drive and paper shredding services are a secure and effective way to destroy confidential data.
Farmington Medical Record Scanning and Medical Records Storage
Medical record scanning creates electronic paperwork that is convenient, eco-friendly, and more secure. Once your files have been converted, you can integrate your records with an Electronic Health Records System (EHR). Medical record storage is used in conjunction with scanning to safely store documents that must be retained physically.
Farmington Document Management Services
Document management systems (DMS) are software based organizational systems for your business documents. They give you more control over your files with document directing and tracing and allow you to set customized permission settings as needed. You will be able to easily access, edit, and share documents to complete your projects.
Get Free, No-Obligation Quotes on Document Management Services Throughout Farmington
Document management services are customizable to meet your company's individual needs. We offer reliable solutions for each step in the document management process. Contact us by calling (573) 621-3176 or filling out the form today. We will connect you with local providers and send you free quotes within minutes.
Record Nations proudly serves these cities near the Farmington area:
Bismarck | Doe Run | Ironton | Knob Lick | Park Hills | Pilot Knob